Wednesday 26 May 2021, 08:00am - 05:00pm

by
This email address is being protected from spambots. You need JavaScript enabled to view it.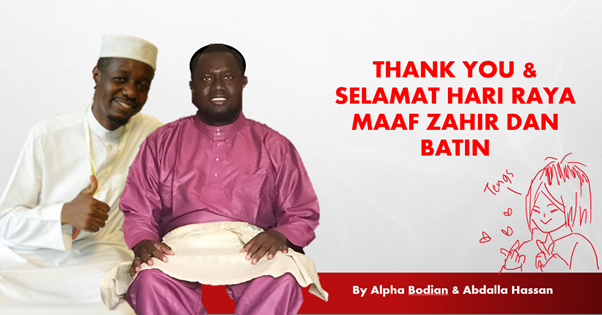 Have you ever wondered how it feels like to celebrate something familiar in an entirely different world? Sate your curiosity and celebrate the Senegalese Korité Mubarak with Mr. Apha Bodian and the dazzling Tanzanian Eidul Fitr with Dr Abdalla Hassan.
Africa is a continent of wonder. As one travels from the British-influenced United Republic of Tanzania (Swahili: Jamhuri ya Muungano wa Tanzania) in the west to the far east French-speaking République du Sénégal, one is bound to be dazzled by their diverse culture.
Dr Abdalla currently resides in Kuala Lumpur with his small African family. Adorning their traditional dresses, his family celebrates a very Malaysian Raya – kuih raya, ketupat and rendang are amongst their favorites. The family has adopted the Malaysian culture in their daily life.
But 10 years away from home, Dr Abdall admitted that he still misses the festivities in Tanzania. Festivity towards Syawal starts as early as mid-Syaaban (the month before Ramadhan). Giving alms – or gifts, as they call them, is their second nature. He gets a present, she gets a present, everyone gets a present! They take full advantage of Ramadhan to stretch good deeds and to reach out to their less fortunate brethren. It is common to see hundreds of Ramadhan care packs stacked neatly in rows along the road. On Malam Raya, when we decorate our gates with fairy lights and tuntong, Tanzanians dance, partying to rejoice the breaking of fast. Intricate floral henna adorns the delicate hands of Tanzanian women. For them, Eidul Fitr is a runway stage for the latest fashion. In the morning, the city of Dar es Salaam appears like a magic carpet colorfully weaved with prostrating devotees in their new attire during the morning prayer.
Dr Abdalla's good friend, Mr Alpha just returned to his homeland, Senegal, with his Malaysian wife – whom he met at UNIMAS (cia cia cia…). He admitted that he feels more Malaysian than a Senegalese as things were different eight years ago when he first left for Malaysia. One thing he was comforted by is the everlasting Korité traditions. If you come home late from work, the streets of Senegal will serve you café (a.k.a. coffee. Senegalese are fancy, maybe it is their French inherited chic?) for Ndogou (iftar). This is also the month when in-laws would anticipate Suukaru Koor, Ramadan gifts from their sons or daughter in-laws.
During Syawal, after the morning prayer, dishes are served in trays to be eaten together. Mr Alpha said that compared to Hari Raya, Hari Raya Haji or Tabaski Mubarak is more celebrated. They would dance to the beat of the drum. However, Korité is well celebrated in his household as the Malaysian tradition is ingrained deeply in his beloved wife, and of course, in him.
"Raya penting! She (his wife) will get busy with kueh and biskut raya!" he laughed.
Attachment(s):