Monday 24 May 2021, 08:00am - 05:00pm

by
This email address is being protected from spambots. You need JavaScript enabled to view it.
Far from family, stranded on campus, no visiting, no gathering. What are the chances that this Raya will be a memorable one?
Quite high, apparently -- with some determination, a bucketload of enthusiasm, and a sprinkle of creativity!
Prior to Raya, UNIMAS Residential Colleges and UNIMAS Global collaborated to provide an avenue to allow students to experience a bit of the Raya ambience in the safety of their green bubble.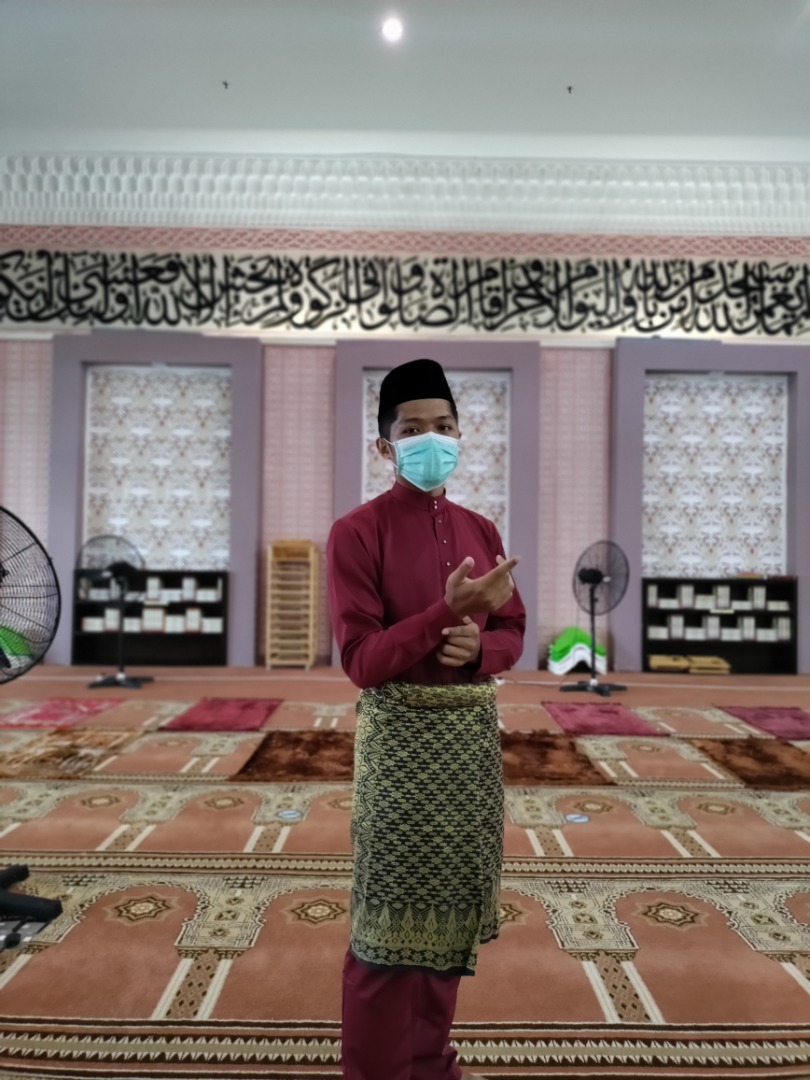 Afiq Firdaus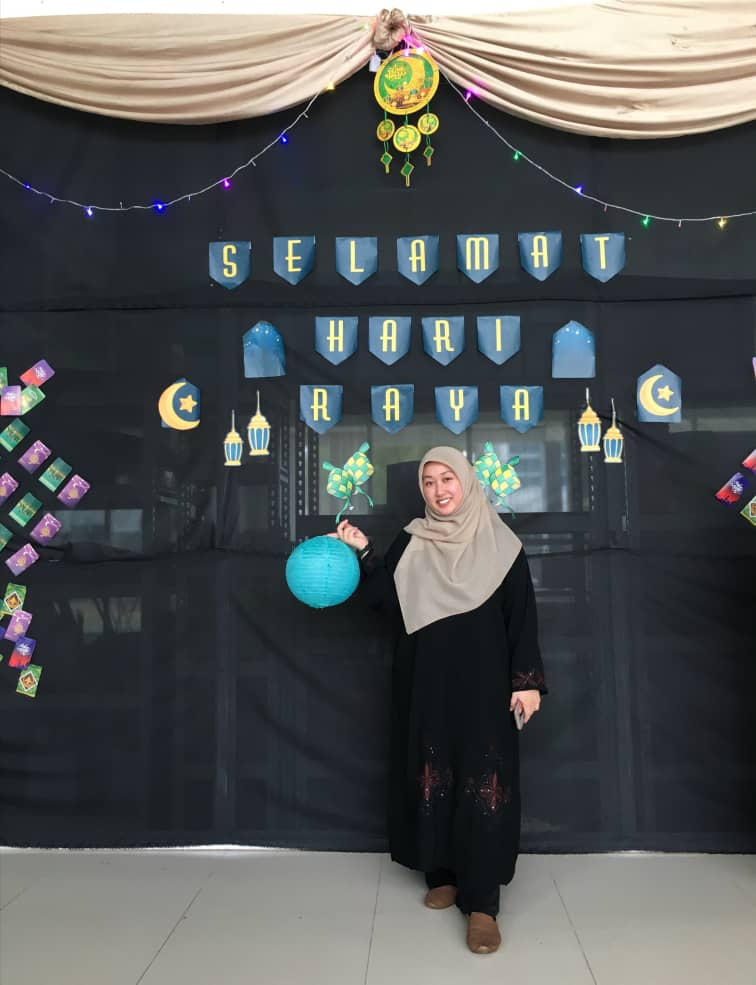 Shazleen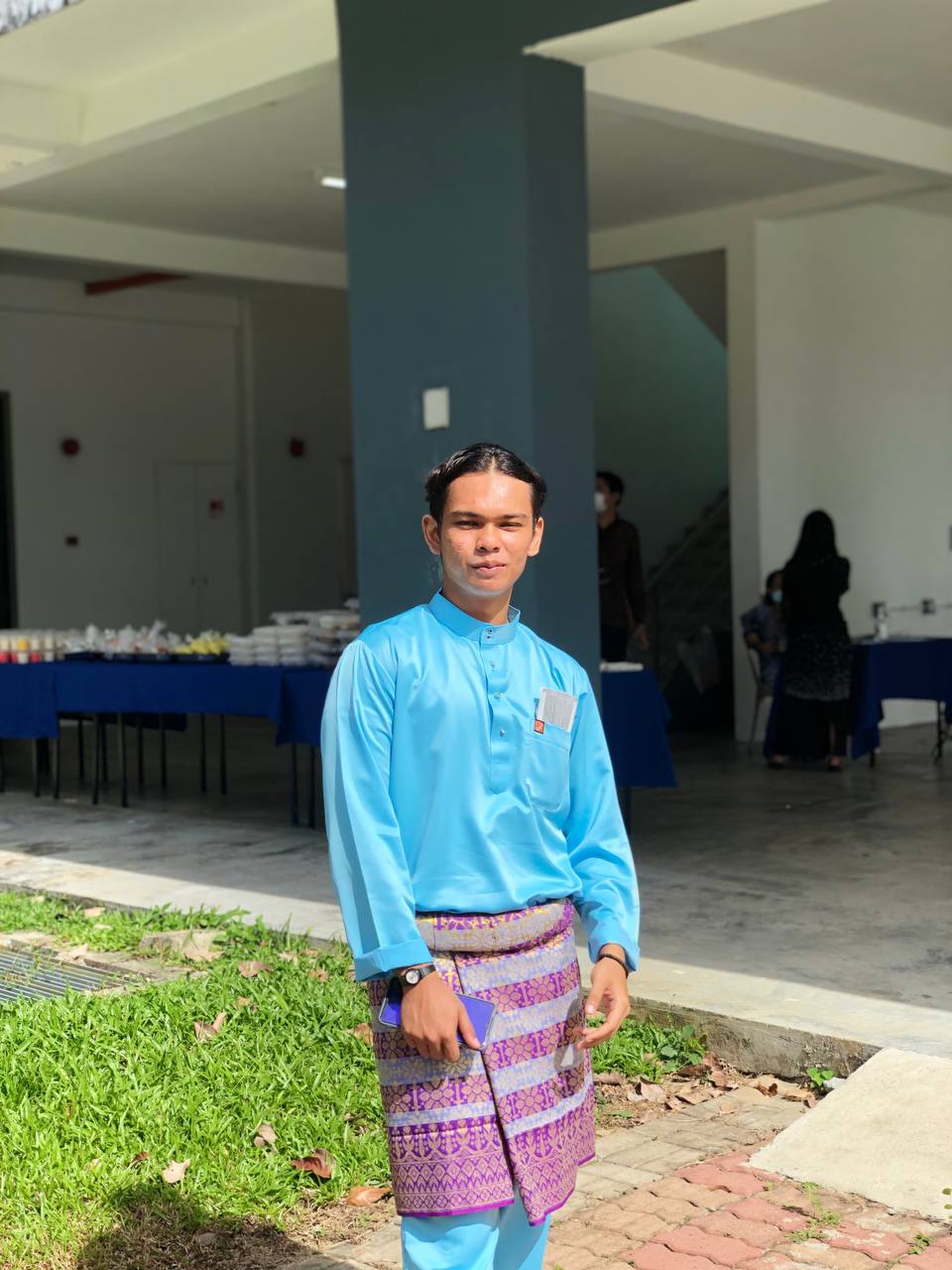 Khairul Afiq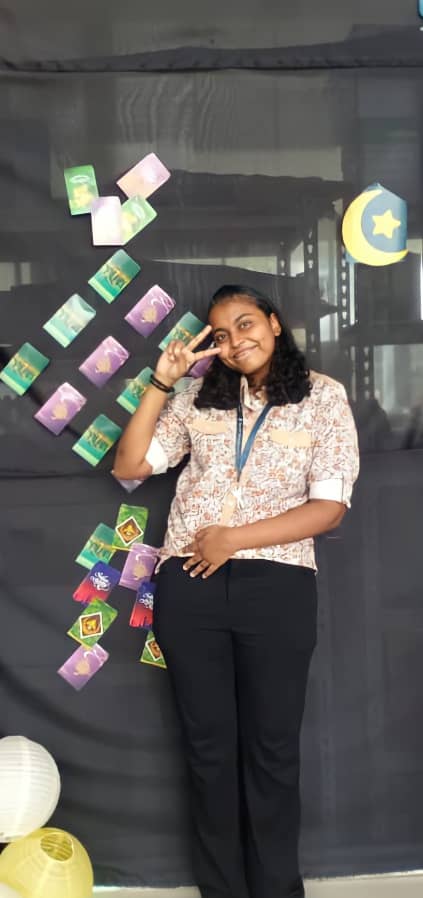 Tharshini
The #UniquelyUNIMAS spirit was immediately apparent with Tharshini a/p Ramasamy as the Programme Director for the Raya initiative. Tharshini does not celebrate Raya personally, and she has never directed such a programme, so she was quite worried at how it would turn out. Under her, there were three Deputy Directors – Dayang Norshazleen binti Awang Kalong (Shazleen), Muhammad Afiq Firdaus bin Ramli (Afiq), and Mohamad Khairul Afiq bin Abu Bakar (Khairul). She called for a meeting, and that was how the four of them met for the first time.
Their team's mission? Cook Raya food!
More recruits were needed. A Head Chef, Nurul Fatehah Aine binti Hairulnizam (Teha), was sought and appointed. Sous chefs followed, one of those being Iffa Natasya binti Mohd Zikri (Iffa).
These are snippets of their stories.
How many dishes did you come out with?
Teha and Iffa: We planned for nine items: lodeh, nasi impit, ayam masak merah, rendang, jelatah, kuah kacang, lemang, nasi minyak, and kari ayam.
Wow. Did you face any problems?
Tharshini: The most challenging part was the grocery shopping. As Raya was just around the corner, most of the things we were searching for were out of stock. It really felt as though we were in a Treasure Hunt. ?
Teha: Early preparation and a few days of not getting enough sleep. My residential college is a bit further away from the other residential colleges. A few days before the programme, I was worried sick as that was my first time cooking for a large number of people. I called and confirmed and reconfirmed recipes with my mom and aunty, even for things that I already know! It's all because I was nervous.
An even more challenging part in my experience was when I suddenly noticed that our ingredients were not enough to make nasi minyak.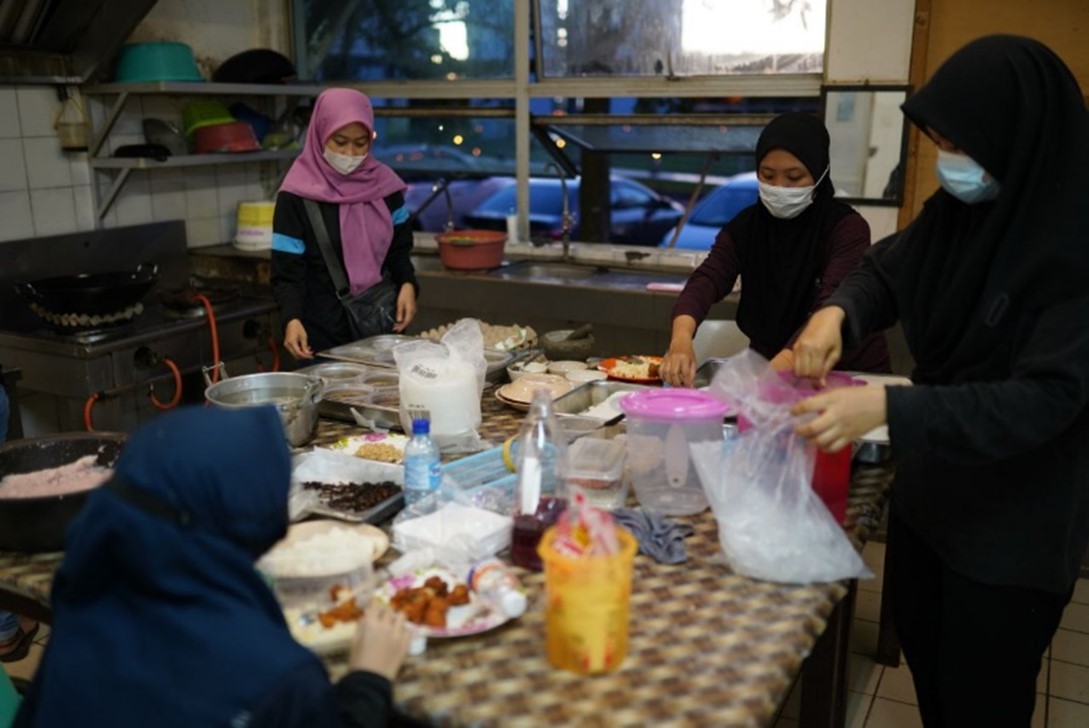 Sous chef Iffa in pink tudung, with other members (Sarwina, sitting, Auni, blue mask)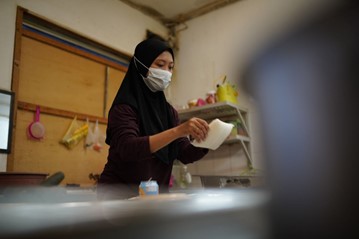 Head chef busy at work. Gordon Ramsey belum tentu berani ngan dia ni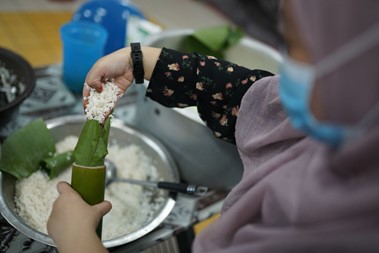 Shazleen, bergambar olok-olok acah-acah isi lemang
So, what did you do, Teha, regarding the nasi minyak?
Teha: I changed the menu to white rice in the end!
Definitely healthier! We heard rave reviews about the food…
Tharshini: We were led by an amazing head chef and sous chefs and with their guidance, we were able to create outstanding dishes that left everyone in awe! We got feedbacks saying that the foods were top tier! That I would like to consider as an achievement! ?
Any personal favourites?
Iffa: OMG, this is hard because every dish that was prepared was a 'personal favourite', honestly. Every dish has its own delicious taste. They were all reallyyyy good! Too good to be eaten. ?❤️
Tell us something memorable.
Afiq: Me, Syahid, Khai, Syamim, and Tharshini set out to find banana leaves for the lemang. We found banana leaves in Kolej Kenanga and TAZ. After getting them back to our college, we quickly rolled the banana leaves into the bamboo. It was meticulous work, the leaves always split. At last, 25 bamboo rolls were ready. But when Dr Supian (our college principal) checked the banana leaves, he said, "Ni tak boleh ni", and he rolled new banana leaves for every single one that we did! I learnt that studying from YouTube is not enough, maybe YouTubers should make better videos of Hari Raya Preparation Kit.
Shazleen: Most memorable, hm, staying up until 4.30 am monitoring lemang with Thar, Isya and the boys -- Capik, Mimi, Hussin, Hawidi, and Christopher.
Iffa: The most memorable, fun-nest parts and crazy stuff were that all of us really put a lot of love and effort just to make everything run smoothly. I think we sent a lot of positive energy to each other, too much shi xua xua and cak ketum dance during bertuntong ?✋? because we all miss the moments before COVID-19 hit us, when there were no masks, no social distancing, no SOP. Just transparent and pure bonding plus interacting without worrying that you might spread a virus or get infected.
Khairul: To me, the most memorable thing, aside from not being able to celebrate with my family in my hometown, is to be able to celebrate with my new family in UNIMAS, that is, my siblings from other colleges.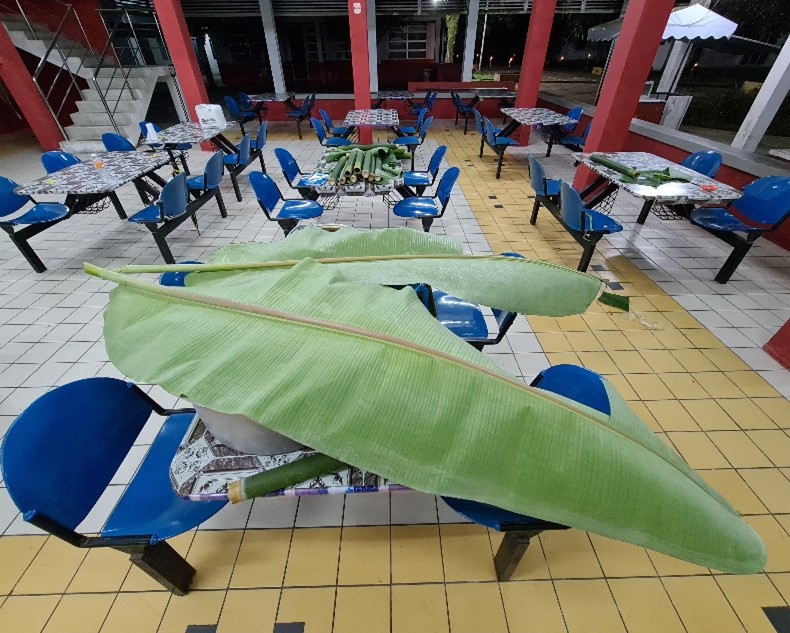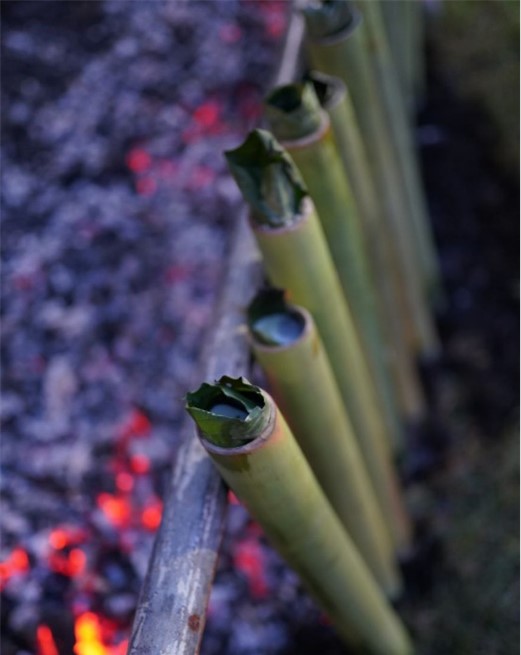 Those legendary daun pisang from Kenanga and TAZ before they got rolled (wrongly) into the lemang
Did you know one another before or are these new friends?
Afiq: I was a resident during my first semester, and I knew a few of the committee, but they also have new faces. A completely new experience for me when getting to know the students from other colleges.
Tharshini: The fun part is when everyone got the chance to make new friends with people whom they met for the first time. A lot of us did not really know one another, but we have all been inside the campus together all along. Thus, new friendship bonds were born, thanks to this.
Shazleen: I met a lot of new faces that I have never seen. Thirteen master students and one PhD student who stay far away from my college here. They are super amazing! Responsible and function terok, hehehe.
Khairul: The experience of working with new people never ceases to impress me. They are wonderful people and I would like to work with them again in the future.
Is this your first Raya away from family?
Shazleen: Well, yes, this is my first time celebrating Raya without family. But I was busy doing a lot of things and I have no time to feel sad.
Khairul: I think this is my third Raya away from home, but it is my first in an MCO…
Afiq: It is my first Raya di perantauan.
How do you find this Raya, then, this year?
Khairul: This Raya initiative played a major impact for this year's Raya as we had fun and managed to produce the "Kampung" raya vibes despite the SOP. I am touched by the feedback from my fellow college residents, who told me that they did not feel neglected even though being far away from their families.
Tharshini: It was my first time celebrating Raya in UNIMAS as well as being surrounded by a group of people that I have only known in a very short amount of time. I felt like I was given the opportunity to feel the true joy of celebrating this festival and I truly appreciate it from the bottom of my heart.
Shazleen: It was different, surrounded by my new friends. I enjoyed everything although I was super tired. Due to the pandemic (SOP thingy), we didn't manage to take photos together.
Teha: The experience this time was quite different from my previous Raya, but this is a memory that not everyone will have. A celebration without family but was occupied by friends and new exciting experience. Plus, I learned to cook for Raya on my own this time.
Afiq: This initiative shaped my Raya into a tired but fun and new experience. We completed Raya decoration and ate various foods. When I video-called my family, I got to show them stuff -- I showed them the decoration, the food, my junior from college, and my new friends. In conclusion, this Raya is colourful, I got to wear my outfit and enjoy myself.
Iffa: This Raya was such a great experience and opportunity. Seriously busy as a bee but really worth it.
Sounds like everyone enjoyed their Raya on campus. We're very glad to hear that. And we think that all of you pulled off a fantastic job. Well done, people!
Note: The interview responses have been edited for length and clarity.
Attachment(s):