Friday 08 September 2023
by
This email address is being protected from spambots. You need JavaScript enabled to view it.
UNIMAS and PERSAMA organised the first Borneo Mathematics Camp (BORMAC)
UNIMAS, 30 August 2023 – The Borneo Mathematics Camp 2023 (BORMAC 2023), themed "Applying Mathematics to the real-world: Where Numbers Come to Life," concluded on a triumphant note, leaving an indelible mark on participants and organizers alike. The camp, held from 26th to 30th August 2023, at the university's Kota Samarahan campus, brought together 72 enthusiastic young minds from 13 different schools in Kuching, Samarahan and Serian.
Under the auspices of the Data Science Centre, Faculty of Computer Science and Information Technology, UNMAS, BORMAC 2023 offered the participants a unique platform to delve into the practical applications of mathematics and witness its impact on various aspects of life. The camp was meticulously curated by a dedicated team of academics, researchers, and professionals who share a common goal: to inspire a deep appreciation for mathematics beyond the classroom.
Throughout the camp's duration, participants were exposed to a diverse range of activities that demonstrated the real-world significance of mathematics. From budgeting for dream vacations to uncovering the geometry within architecture, the participants' creative thinking and problem-solving skills were nurtured through hands-on projects and engaging workshops.
The highlight of the camp was the group projects, where participants collaborated to apply mathematical concepts to real-world challenges. These projects not only showcased the participants' ingenuity but also underscored the profound impact mathematics has on addressing complex issues.
"I was truly amazed by the depth of knowledge and enthusiasm displayed by the participants, who are 13-14 year old children," remarked Professor Dr Jane Labadin, Chair of the Organizing Committee. "The camp fostered a dynamic learning environment that encouraged critical thinking and collaboration, allowing participants to harness the power of mathematics as a tool for innovation." Prof Jane and colleagues from the Faculty lent their expertise to facilitate the teaching and learning during the camp.
"We believe that events like the Borneo Mathematics Camp play a crucial role in cultivating a new generation of innovative thinkers," said Associate Professor Dr Kartinah Zen, Dean of the faculty where most of the activities were held. She continued, "Mathematics is not just about numbers; it's a key to unlocking a world of possibilities, it's the main ingredient of computer science, and we're proud to support initiatives that nurture this perspective." when asked about the reason for hosting the event.
The Borneo Mathematics Camp was made possible through the generous support of the Persatuan Sains dan Matematik Malaysia (PERSAMA), the main sponsor of the event. Their commitment to education and mathematics played a pivotal role in creating an enriching experience for all participants. The involvement of Borneo Cultural Museum also ensured the success of the educational tours, allowing more exploration.
For these eager young students, BORMAC 2023 has provided them with a transformative experience in exploring the world of mathematics in innovative and engaging ways. BORMAC 2023 has undoubtedly sown the seeds of curiosity, creativity, and passion for mathematics in these young learners.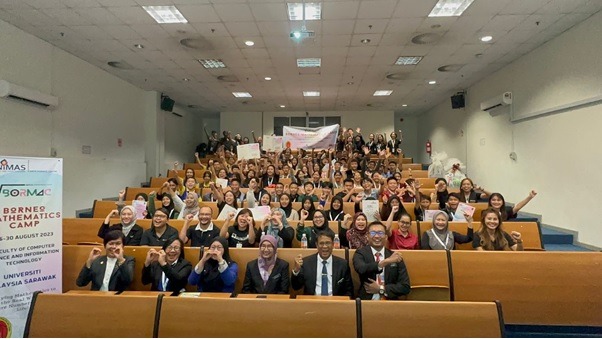 Attachment(s):