Tuesday 06 October 2020
by
This email address is being protected from spambots. You need JavaScript enabled to view it.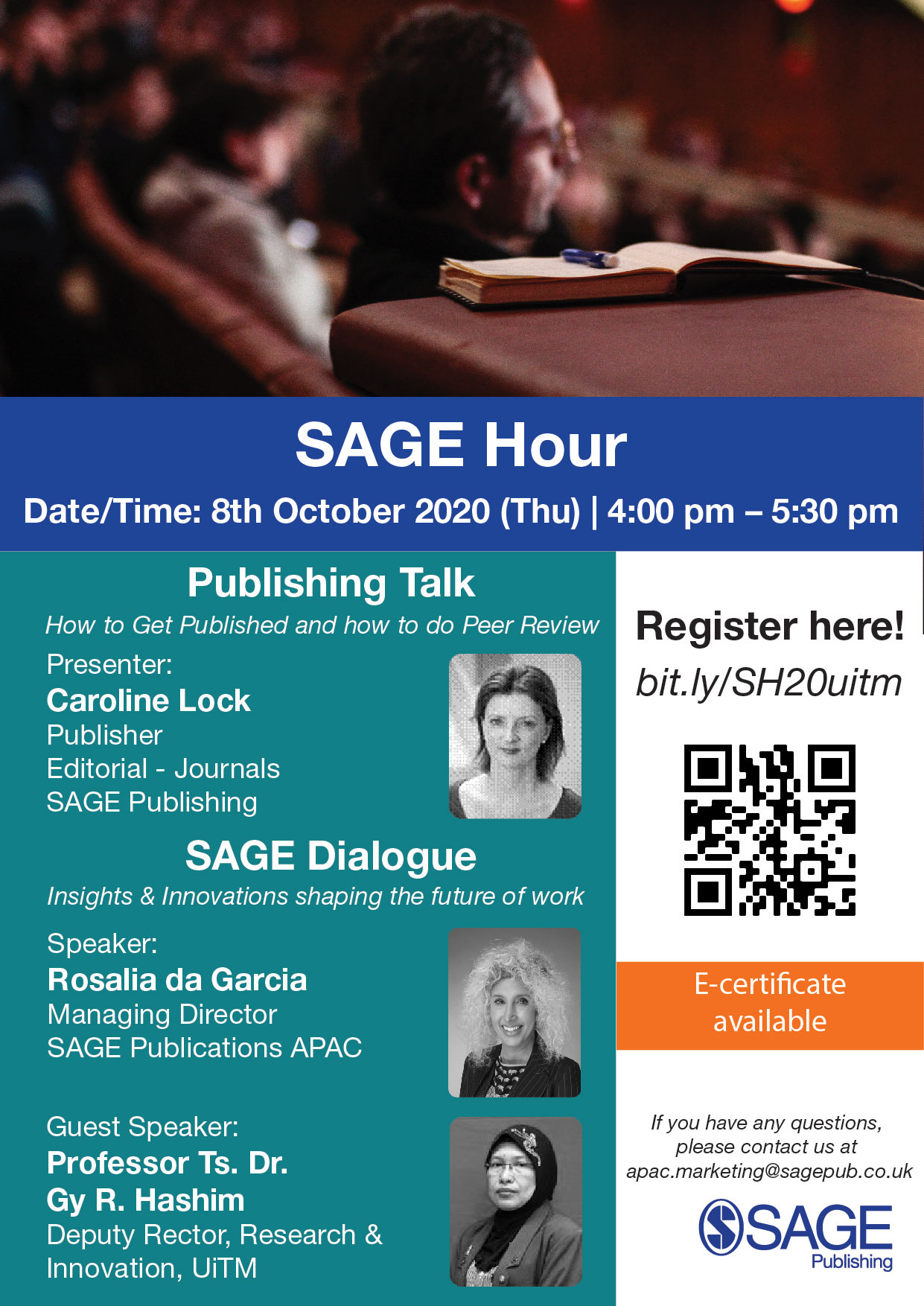 Good News!
SAGE Asia Pacific will be organizing Webinar on SAGE Hour,
Date : 8th October 2020 (Thursday)
Time : 04.00pm - 05.30pm
Write up
In this webinar, SAGE would be holding a short publishing talk conducted by Caroline Lock, Publisher, Editorial – Journals, SAGE Publishing. This is followed by a dialogue session between Rosalia da Garcia, Managing Director, from SAGE Publications Asia Pacific and Dr. Gy R. Hashim, Deputy Rector, Research & Innovation from Universiti Teknologi MARA (UiTM).
Publishing Talk
Title: How to Get Published and How to do Peer Review
Speaker: Caroline Lock
Topics to be covered:
Submitting a strong manuscript
The peer review process
How to be a peer reviewer
SAGE Dialogue
Title: Insights & Innovations shaping the future of work
Speakers: Rosalia Garcia and Dr. Gy R. Hashim
Synopsis: The unprecedented crisis of COVID-19 has forced businesses to re-evaluate current business practices and strategies. What will the future look like after emerging from COVID-19? Will current skills be obsolete? In this session, we are unlocking the mindsets & skills to develop a learning culture to deliver a competitive edge. Join Rosalia da Garcia, and Dr. Gy R. Hashim as they discuss over an informal 40 minutes dialogue. They will also touch on what can lecturers and students do now to equip themselves to face the ever-changing world.
Program schedule
4.00pm – 4.25pm: Publishing Talk
4.25pm – 4.40pm: Q&A for Publishing Talk
4.40pm – 5.10pm: SAGE Dialogue
5.10pm – 5.20pm: Q&A for SAGE Dialogue
REGISTER NOW!
Attachment(s):