Wednesday 26 May 2021, 08:00am - 05:00pm

by
This email address is being protected from spambots. You need JavaScript enabled to view it.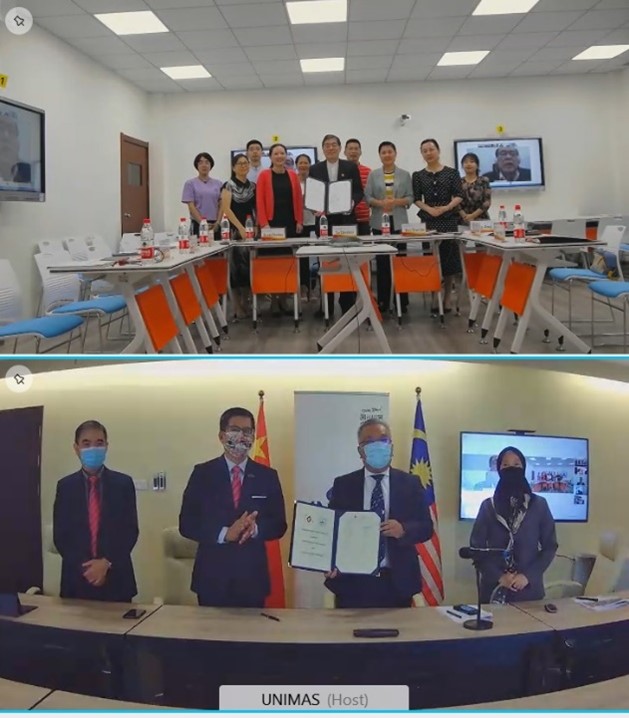 Virtual platform has made it possible for international collaborations to persist during this era. On 24 May 2021, UNIMAS and Zhejiang Yuexiu University pledged collaboration in mutual areas of interest and strategic partnership for the benefit of both parties via a virtual MoU.
The MoU was signed by the Vice Chancellor of Universiti Malaysia Sarawak, Professor Datuk Dr Mohamad Kadim Suaidi, and the President of Zhejiang Yuexiu University, Professor Dr Xu Zhenhua. The signing was witnessed by Professor Dr Ahmad Hata Rasit, Deputy Vice Chancellor (Academic & International) of UNIMAS, Assoc Prof Dr Shanti Faridah Salleh, Director of UNIMAS Global, Professor Dr Wei Xiaolin, Dr. Professor, Vice President of Zhejiang Yuexiu University, Associate Professor Wang Jing, Director of International Cooperation and Communication Department of Zhejiang Yuexiu and few other honorable guests of both universities.
Among the possible collaborations that are on the table are exchange programmes for students and lecturers, joint research, teaching and support for continuing education, and co-operation in international seminars and conferences.
Collaboration between UNIMAS and international parties has been ongoing for many years, through both formal and informal arrangements. This is to ensure that UNIMAS stays in touch with its counterparts around the world to establish long-term research and academic collaborations in fields which are compatible with the orientation of each university.
Attachment(s):