Tuesday 12 October 2021, 08:00am - 05:00pm

by
This email address is being protected from spambots. You need JavaScript enabled to view it.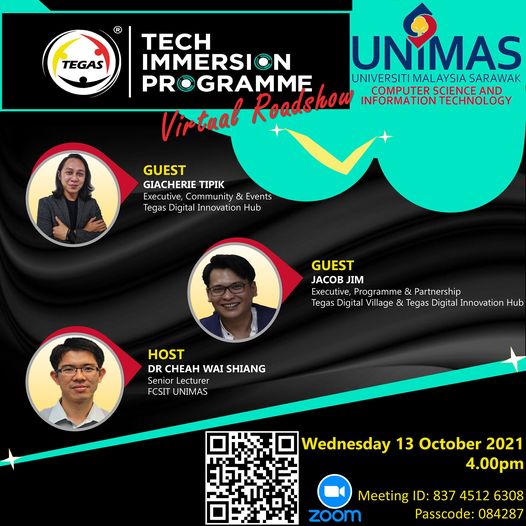 Calling Sarawakian fresh graduates and graduating students 2021!
Tabung Ekonomi Gagasan Anak Sarawak (TEGAS) launched its Tech Immersion Programme this month and they are looking for candidates to participate in the SIX months programme (monthly allowance RM1,200). If you qualify and are interested, please join TEGAS virtual roadshow for UNIMAS this coming Wednesday 13 October 2021 at 4pm.
Mr Giacherie Tipik and Mr Jacob Jim will explain more about the programme and its benefits, as well as what IT roles are available for you.
Join Zoom Meeting: https://bit.ly/tegasxunimas
Zoom Meeting ID: 837 4512 6308
Passcode: 084287
See you!
Check out this programme deck: https://bit.ly/ttip_programme
To sign up: https://bit.ly/TTIP2021
Successful candidates will:
Discover new (and hidden) talent

Get real-world experience

Enhance perspective

Increase chances of getting employed early on

Exposure to startup ecosystem - creating potential future entrepreneurs

Learn fast - as the students will be working in tech startup companies
Attachment(s):