Sunday 09 May 2021, 08:00am - 05:00pm

by
This email address is being protected from spambots. You need JavaScript enabled to view it.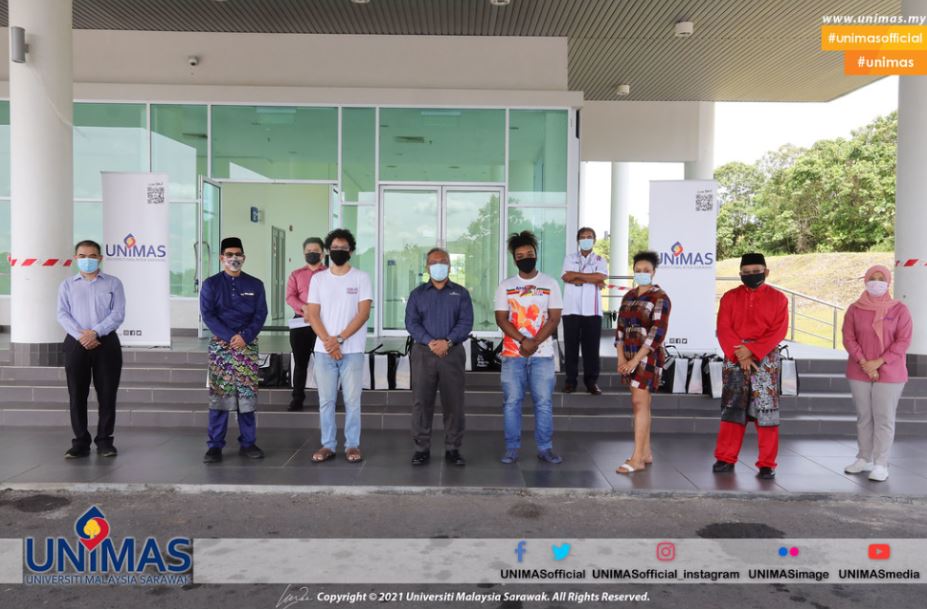 "The best alms is the one bestowed during the month of Ramadhan"
"The Ramadhan pack is very nice. I really like the meals. Especially the baked goods." Ahmed Izzeldin, our Sudanese student commented joyfully. The 2nd year student from the Faculty of Applied and Creative Arts loved our 'Biskut Raya'.
'Biskut Raya' is what assorted cookies made for celebrating Eid Mubarak are typically called. These range from traditional ones to modern ones. We included one in our Sungkey Pack to add a touch of festivity to the package.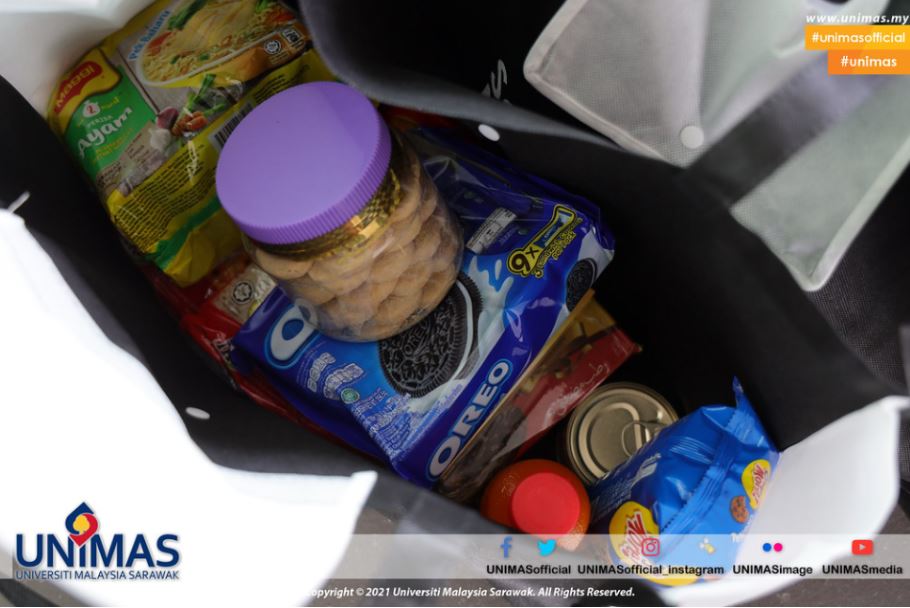 The UG Sungkey Pack programme is orchestrated by the UNIMAS Global Director, Associate Prof. Dr Shanti Faridah Salleh, and the International Unit. It is divided into three sessions, starting with the dissemination of the packs to international students who reside in Dahlia on 23 April 2021.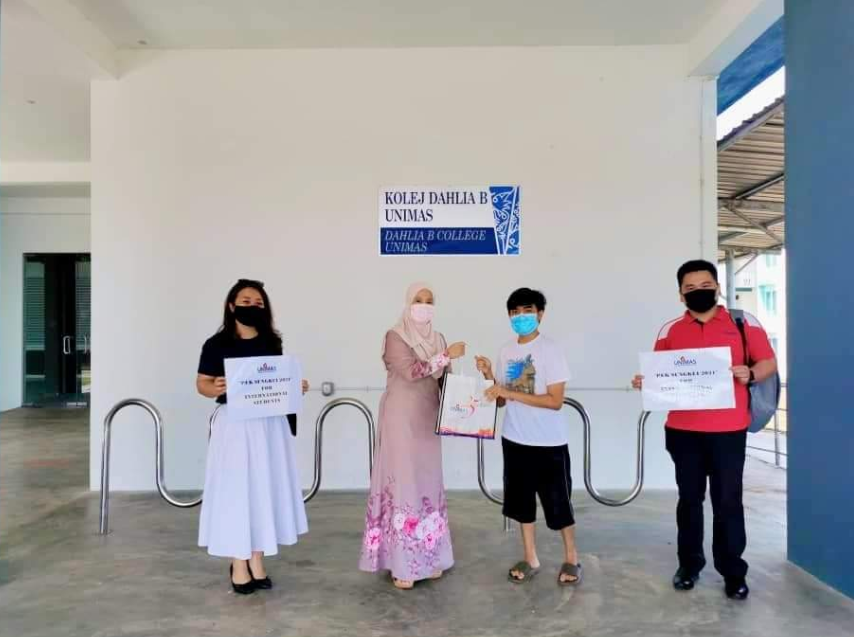 One is your lucky number. The first beneficiary of our UG Sungkey packs.
On the 5th of May, 55 international students residing in the Uni Garden vicinity received their sungkey packs at Dewan Tunku Abdul Rahman PUTRA from our Vice Chancellor, Prof. Datuk Dr Mohamad Kadim Suaidi. The event was attended by the University's top management, Deputy Vice Chancellor of Academic and International, Deputy Vice Chancellor of Student Affairs and Alumni, and the CEO of UNIMAS Business School.
The final phase which involves 11 students received their sungkey packs today (9 May 2021) at the residential college Rafflesia. In total 87 UG Sungkey Packs were safely distributed in Ramadhan.
The UG Sungkey Pack is part of UNIMAS Global High Impact Projects (stylised #UGHips), with the purpose of creating a home away from home for our international campus community. Some of our international students have been staying in Sarawak for 3 to 5 years without returning to their home countries. It is a price that they accept when studying abroad in a land so far and foreign, but nowadays, the impact is stronger. There are no longer open masjids for them to mix with the locals and no Ramadhan Bazaars for food hunting.
A jar of 'Biskut Raya' may not solve everything, but it may bring a smile to these brave individuals.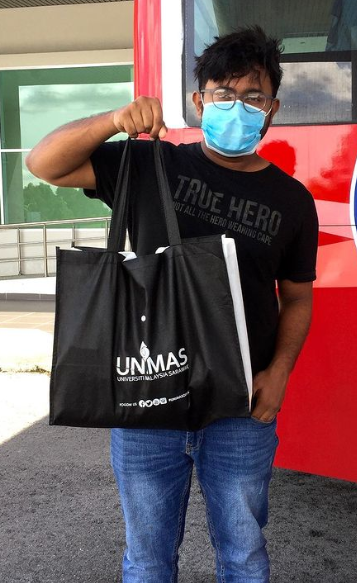 Md Abdul Rahman is studying Information System at the Faculty of Computer Science and Information Technology. He has been in Sarawak for 5 consecutive years.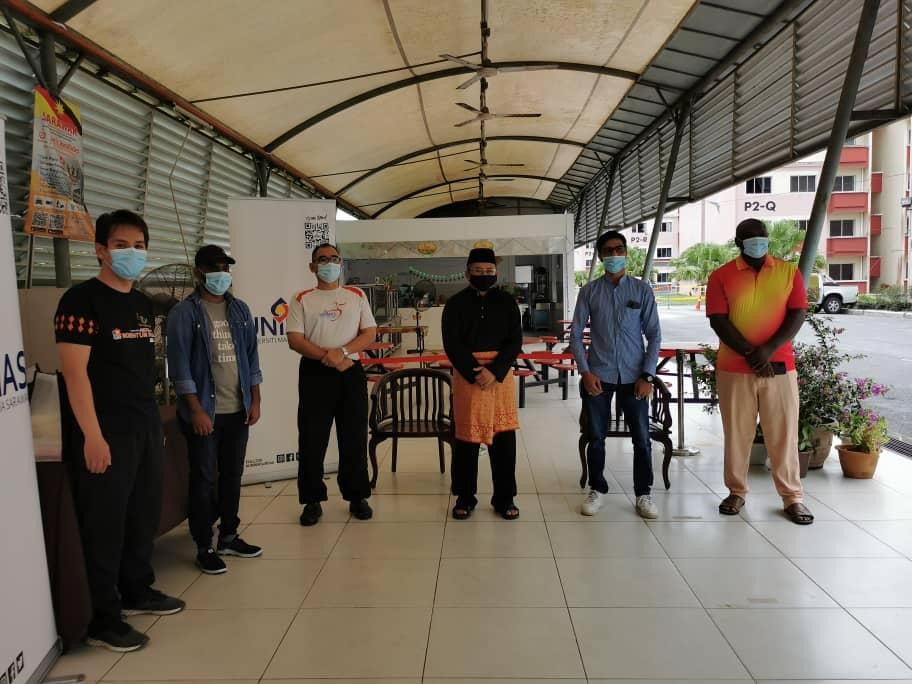 One with our Deputy Vice Chancellor (Student Affairs and Alumni) Prof. Dr. Kamarudin Kana at Rafflesia. Prof. Dr. Kamarudin also attended the Tautan Ramadhan i-Bantu (Yayasan IKRAM Malaysia (Sarawak)) at Dataran Ceria Cempaka.
Attachment(s):