Thursday 06 May 2021, 08:00am - 05:00pm

by
This email address is being protected from spambots. You need JavaScript enabled to view it.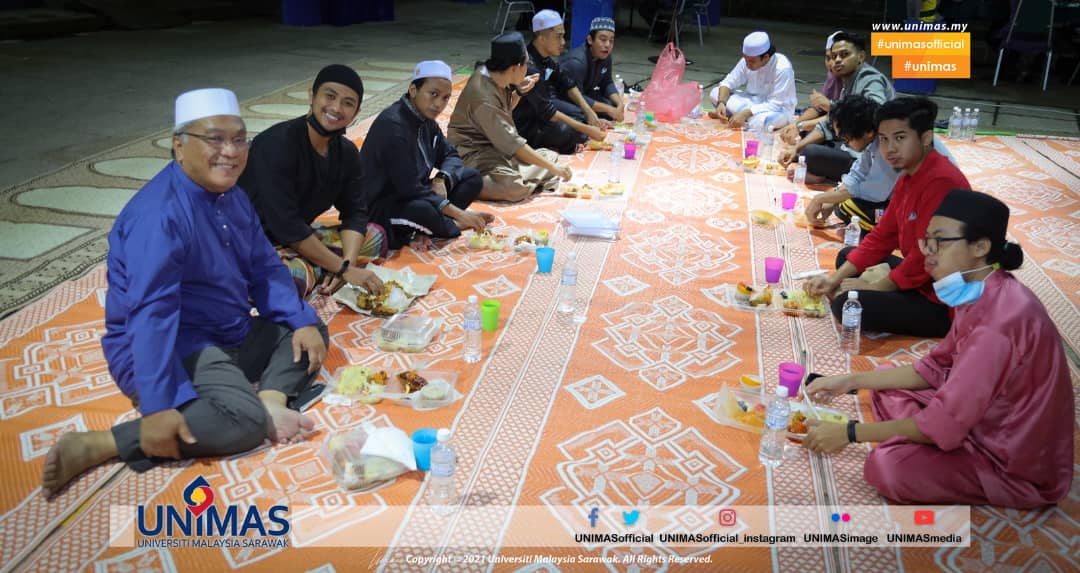 Malam 10 Likur marks the last 10 nights of the holy Ramadhan. This is when little lamps light up homes, the air is filled with sweet fragrance of Raya cookies, and by twilight, the call of prayers will gather family members around.
Far from the warmth of their families and hometowns, the residents of Cempaka College lit 10 lamps in their garden to welcome the final nights. They are celebrating Malam 10 Likur within the safe bubbles of their colleges. Last night was special not only to the Cempakians, but also to their brethren from Bunga Raya, Tun Ahmad Zaidi, Sakura, Kenanga, Alamanda, Dahlia, Rafflesia and Kasturi residential colleges. They had a small but memorable sungkey on campus with the higher management of the University, including their Vice Chancellor, Prof. Datuk Dr. Mohamad Kadim Suaidi.
The melancholic recital of Yassin led by Wan Muhammad Siddiq, or Ustaz, as his friends call him, ended, and the call for prayer echoed from the heart of Dataran Cempaka as dusk slowly dimmed into darkness. After Maghrib, individually-packed sungkey meals were spread across the Dataran Cempaka on weaved mats, reminiscent of the seperah – the traditional Sarawakian practice of having separate, served meals for each individual during events.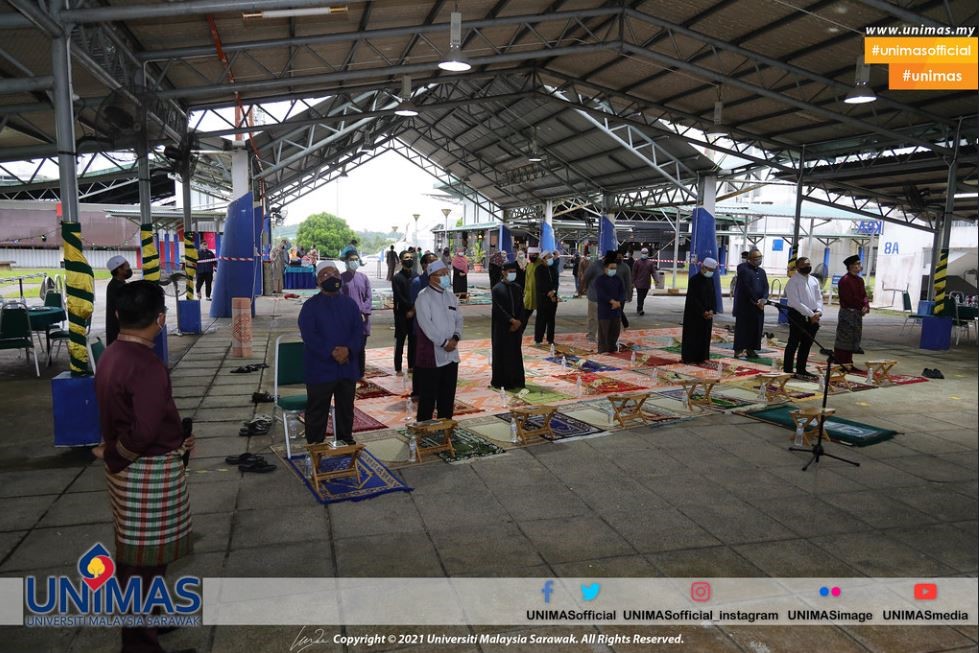 "Sila rapatkan saf…" is now a memory. The new norm saf – the rulling of rows during congregational prayers to be made in line with physical distancing.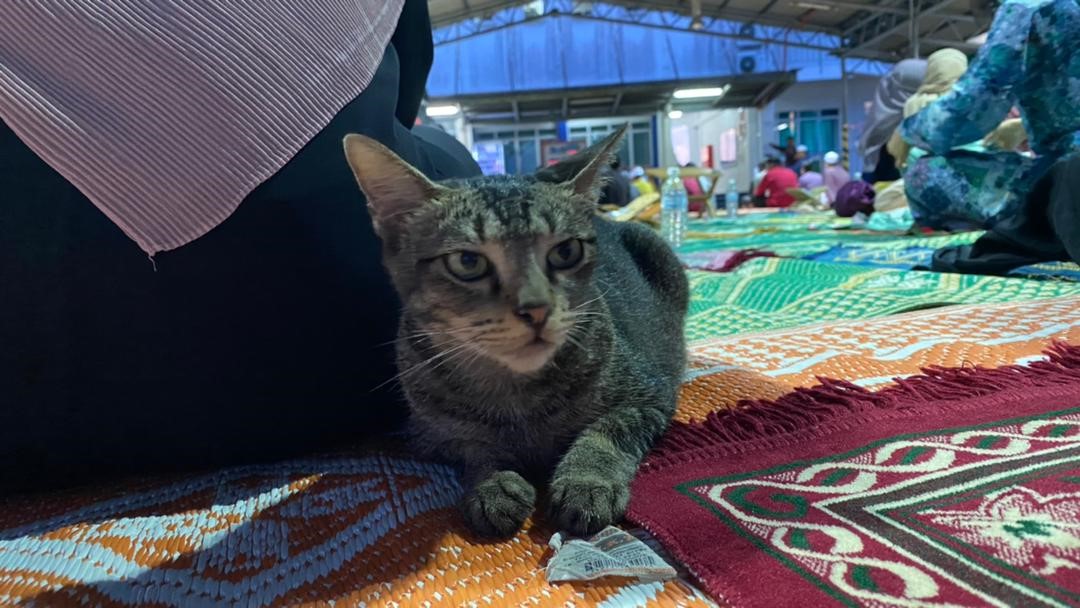 Univited officially, but highly welcomed, guest at the small gathering. This Cempaka cat appeared to enjoy the evening's vibe.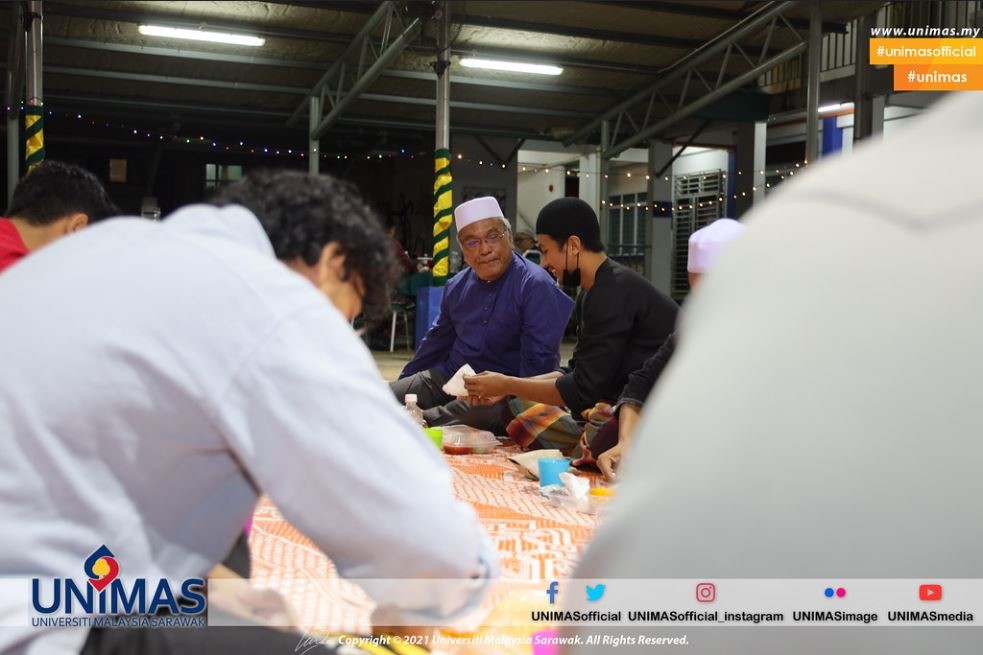 All smiles. A student sharing his story with Prof. Datuk Dr. Mohamad Kadim Suaidi.
"We have around 40 students in Cempaka at the moment and they are enthusiastic to create a special Raya," said Mr Mohd Hafizan Hashim, the Cempaka College Principal.
Indeed, in the background, students of various beliefs and races helped with the decoration and the preparation for breaking fast. They decorated Dataran Cempaka with fairy lights, reliving the familiar Raya scenery from home to campus. Despite being away from their loved ones, the students put in extra effort to make their experience celebrating Malam 10 Likur in UNIMAS nothing less than fun.
"We want to feel the Raya vibe inside campus walls," one of them declared.
Determined to do their part in ensuring the safety of their loved ones and the community, the students who stayed in campus hail from throughout Malaysia. Those who came from interior Sarawak are as similarly affected as their peers from Sabah and West Malaysia.
Amongst them are Syah, a member of MEKAR – the Media Cempaka (@CempakaMedia), who is from Sibu, and his fellow photographer, Adeng, who is from Kapit.
Scrolling through the photos he had taken, there was an underlining loneliness in Syah's voice when he sighed "…this is our situation. The circumstances are 'different'. We can't go home."
This will be Syah's first Aidil Fitr away from home, and undoubtedly one he will remember.
A student in turquoise blue Baju Melayu who introduced himself as Fizani shared a recording of their "Salam Anak Perantauan UNIMAS" He admits that whilst they miss home and abiding to the SOP is challenging, they are intent on ensuring that their college remains a haven from the virus. They wanted their family to know they are doing fine in UNIMAS.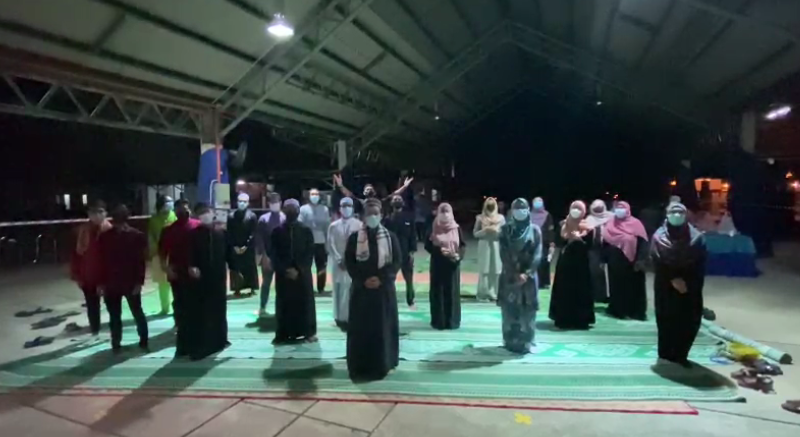 A still from the "Salam Anak Perantau UNIMAS" video clip.
Watch this on https://www.facebook.com/unimasofficial/videos/537468924086521
For bloopers, check out our @UNIMASOfficial_instagram.
#UNIMASTrivia Juh bersungkey is a classic Sarawakian Malay phrase that means 'Let's break fast' in English or 'Jom buka puasa' in Malay."
Attachment(s):