Wednesday 28 September 2022
by
This email address is being protected from spambots. You need JavaScript enabled to view it.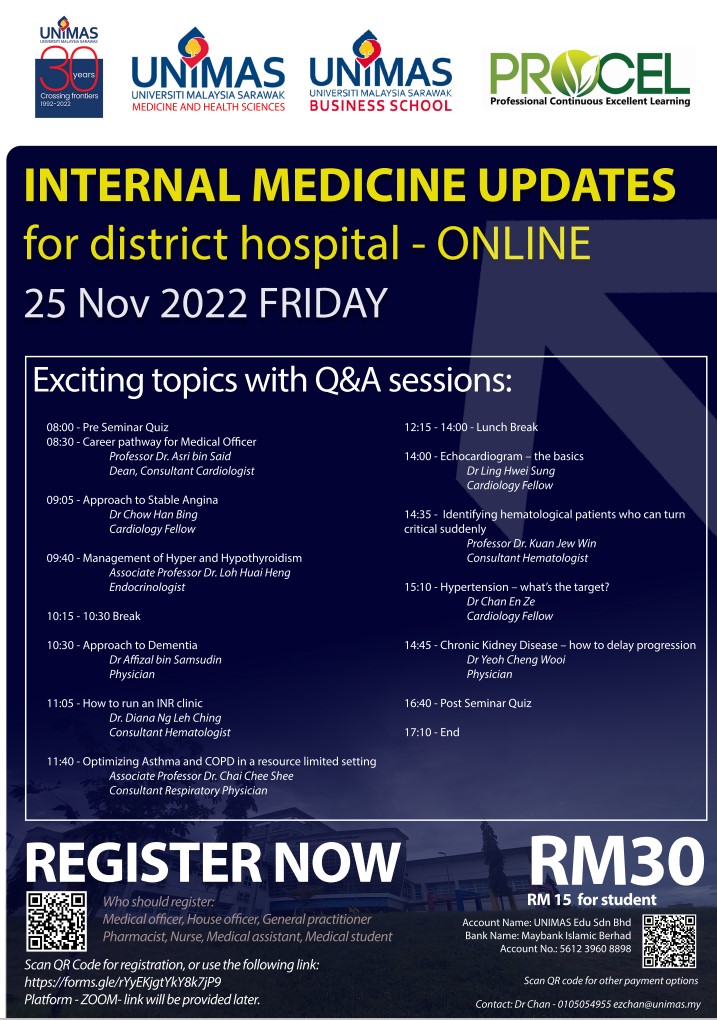 INTERNAL MEDICINE UPDATES FOR DISTRICT HOSPITAL
For Doctors & Healthcare Providers
Organized By:
Department of Medicine, Faculty of Medicine & Health Sciences UNIMAS
Date & Time
25th November 2022 | FRIDAY
8.00 AM – 5.10 PM
Platform: Online - ZOOM
the link will be provided later
10 Exciting topics with Q&A sessions
1) Career pathway for Medical Officer
2) Approach to Stable Angina
3) Management of Hyper- and Hypothyroidism
4) Approach to Dementia
5) How to run an INR clinic
6) Optimizing Asthma and COPD in a resource-limited setting
7) ECHOcardiogram - the basics
8) Identifying hematological patients who can turn critical suddenly
9) Hypertension - what's the target?
10) Chronic Kidney Disease - how to delay progression?
Speakers
1. Prof Dr Asri bin Said
Dean, Consultant Cardiologist
2. Prof Dr Kuan Jew Win
Consultant Hematologist
3. A/Prof Dr Loh Huai Heng
Endocrinologist
4. A/Prof Dr Chai Chee Shee
Consultant Respiratory Physician
5. Dr Diana Ng Leh Ching
Consultant Hematologist
6. Dr Affizal bin Samsudin
Physician
7. Dr Yeoh Cheng Wooi
Physician
8. Dr Chow Han Bing
Cardiology Fellow
9. Dr Chan En Ze
Cardiology Fellow
10. Dr Ling Hwei Sung
Cardiology Fellow
Who should register?
Medical officer, House officer, General practitioner
Pharmacist, Nurse, Medical assistant, Medical student
CPD points will be awarded
Registration Link
https://forms.gle/rYyEKjgtYkY8k7jP9
Fees
RM30 ( Student RM15 )
UNIMAS Edu Sdn Bhd: 561239608898 (Maybank)
Other payment methods:
https://drive.google.com/file/d/144xHgdcdOUipkLoCHjw_U5BcAIuwxJkT/view?usp=drivesdk
For more info
Dr Chan En Ze
This email address is being protected from spambots. You need JavaScript enabled to view it.
Attachment(s):