Thursday 21 April 2022, 04:00pm - 05:00pm

by
This email address is being protected from spambots. You need JavaScript enabled to view it.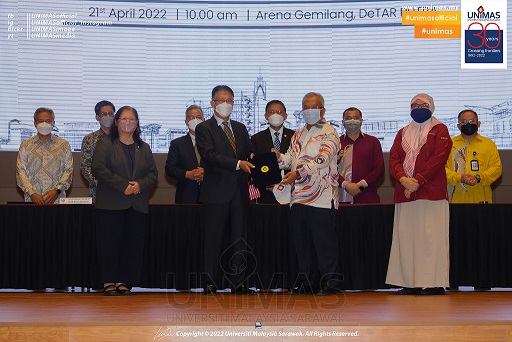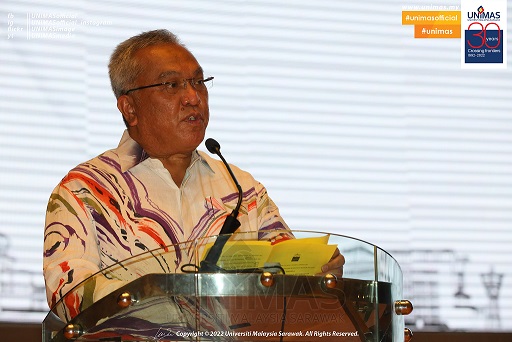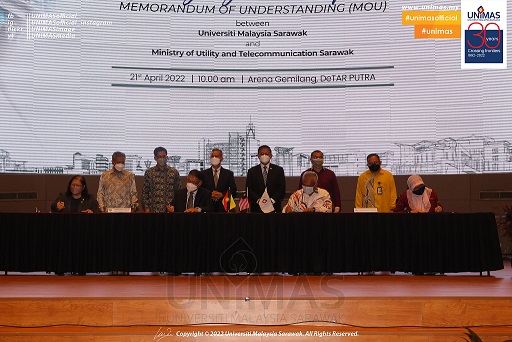 KOTA SAMARAHAN, April 21 - The signing of a Memorandum of Understanding (MoU) between Universiti Malaysia Sarawak (UNIMAS) and the Ministry of Utility and Telecommunication Sarawak (MUT), was successfully conducted today at Arena Gemilang, Dewan Tunku Abdul Rahman (DeTAR).
The MoU focuses on a strategic collaboration aimed at fostering activities, research, and development in the advancement of Sarawak's water supply programmes. The MoU was signed by UNIMAS Vice-chancellor, Professor Datuk Dr Mohamad Kadim Suaidi and the Minister of Utility dan Telecommunication Sarawak, Yang Berbahagia Datuk Hj Julaihi bin Hj Narawi.
Acting as witnesses in the ceremony were Professor Ir. Dr Hajah Siti Noor Linda Taib, Dean, Faculty of Engineering, UNIMAS and Yang Berbahagia Dato Ir. Alice Jawan Empaling, Permanent Secretary, Ministry of Utility and Telecommunication, Sarawak.
According to the Vice-Chancellor, the timing for the collaboration was perfect in the context of helping the state to promote the digital economy agenda.
He said UNIMAS was ready to support efforts to accelerate the state's digital activities by bringing in innovative and forward-thinking individuals from various relevant fields. The establishment of the UNIMAS Water Centre under the helm of the Faculty of Engineering, was specifically to support water-related developments of the state and the nation.
"This is among eight other centres and seven institutes in the university which oversee various niche areas addressing the interests and needs of the university's stakeholders especially the state of Sarawak, with experts in various fields related to water, looking into the application and advancement of water-related infrastructures, including water utilities," he said.
The MoU will draw on UNIMAS' research competence, bringing together the brightest minds and coordinating all efforts to provide timely real-world research. This will also include a variety of academic and non-academic programmes for the development of Ministry personnel and agencies, UNIMAS faculty and students, the water supply industry, and, eventually, the state.
Delegations from the Ministry of Utility and Telecommunication Sarawak and UNIMAS were also present during the occasion.
By; Ahmad Helmi bin Supani (Intern)
Attachment(s):