MYSUN-USC Online Seminar Series #3: Management Roles As Advocates For Sustainability Practices In Institutions
Thursday 02 December 2021, 02:00pm - 04:00pm

by
This email address is being protected from spambots. You need JavaScript enabled to view it.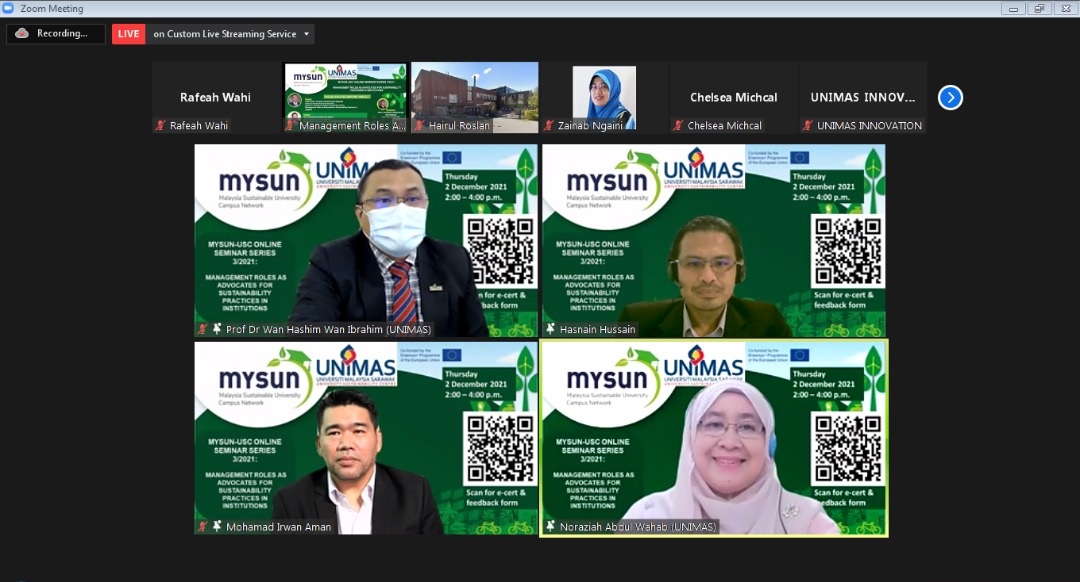 The Malaysian Sustainable University Campus Network (MYSUN) Project, in collaboration with University Sustainability Centre (USC) UNIMAS, have successfully concluded their third Replication Seminar on the 2nd of December 2021. UNIMAS is one of the working partners for the MYSUN Project co-funded by the ERASMUS+ Programme of the European Union (EU). The MYSUN Project aims to empower campus sustainability and initiatives to achieve the United Nations (UN) Sustainable Development Goals (SDG). The final installation of the MYSUN-USC Online Seminar Series was titled: Management Roles As Advocates For Sustainability Practices In Institutions.
The seminar was moderated by the MYSUN UNIMAS Project Leader, Prof. DR Mohd Hasnain bin MD Hussain. Despite being an intimate online session intended to engage with the university's management, the seminar reached over 45 participants in attendance. One of the objectives of the seminar was to facilitate information exchange regarding management roles as advocates for sustainability.
In his speech, Ybhg. Prof. Dr Wan Hashim Wan Ibrahim, the Deputy Vice Chancellor (Research and Innovation) and Chairperson of USC UNIMAS introduced the UNIMAS Sustainability Master Plan 2030. In his session titled "Management Roles As Advocates For Sustainability Practices In UNIMAS", he spoke of the four key sustainability aspects focused on by the university. They are: (1) research, (2) stewardship, (3) curriculum, and (4) outreach. He also spoke extensively on the importance of achieving sustainability goals related to energy sustainability as well as being a low-carbon and green campus.
Following the first session, Mr Mohamad Irwan bin Aman of Sarawak Energy Berhad was also featured at the replication seminar with his session titled "Sustainability Practice In GLC: Sarawak Energy Berhad Experience." As the Head of Sustainability at Sarawak Energy Berhad, Mr Mohamad Irwan had a myriad of experience he was eager to share with the participants. He emphasized the concept of corporate sustainability being a culmination of holistic perspective, multi-dimensional goals and Environmental, Social and Governance (ESG). With that perspective in mind, he revealed the key milestones related to sustainability that Sarawak Energy Berhad had achieved throughout the years such as the continuous development in pursuing hydropower and corporate sustainability.
There were few key takeaways from the seminar, such as there is an urgent need for all parties to significantly reduce their carbon emissions as a response to the climate crisis. Secondly, organizations such as universities or companies should have clear plans to achieve the sustainability goals set for them. Hence, sessions that involve information exchange across differing stakeholders provide the collective benefit for all parties to better move towards their objectives.
The engagement session attracted many interests and suggestions among participants. Receptions are generally positive, and the Q&A sessions were very engaging. It was a fruitful and engaging seminar for everyone.
Attachment(s):