From Monday 29 November 2021 - 08:00am
To Thursday 09 December 2021 - 05:00pm

by
This email address is being protected from spambots. You need JavaScript enabled to view it.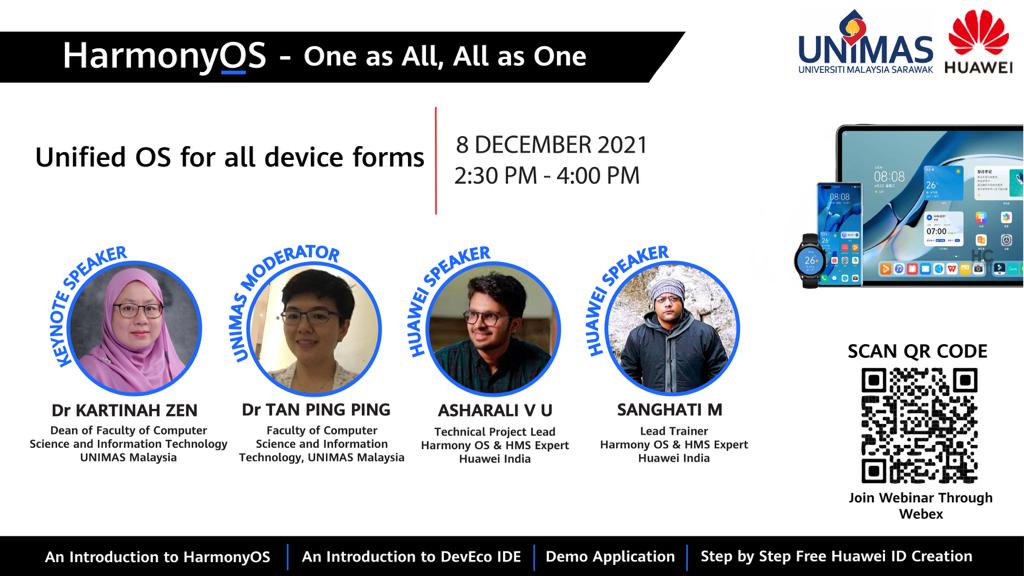 Faculty of Computer Science and Information Technology would like to invite all UNIMAS students and staff to attend the first ever online webinar to introduce HarmonyOS - HUAWEI's latest Unified OS for all device form.
This exclusive webinar will bring everyone to have a deep and better understanding of HarmonyOS that provide the secure, reliable and seamless mobile application ecosystem to create the smart lifestyle in all scenario. Aside from that, you could learn about how to use DevEcp Studio IDE to kick start your HarmonyOS Application. We will have guest speakers from HUAWEI India, Mr Asharali V U and Mr Sanghati M, both experts on HarmonyOS & Huawei Mobile Services (HMS).
To know more about HarmonyOS, you can find more information from official website:
https://developer.harmonyos.com/en/
Date: Wednesday, 8 December 2021
Time: 2.30pm-4.30pm
Webex link: https://bit.ly/3I03AEm
Note: Digital certificates from HUAWEI will be provided to attendees after registering a Huawei ID and completing their survey forms.
Attachment(s):