Monday 08 November 2021
by
This email address is being protected from spambots. You need JavaScript enabled to view it.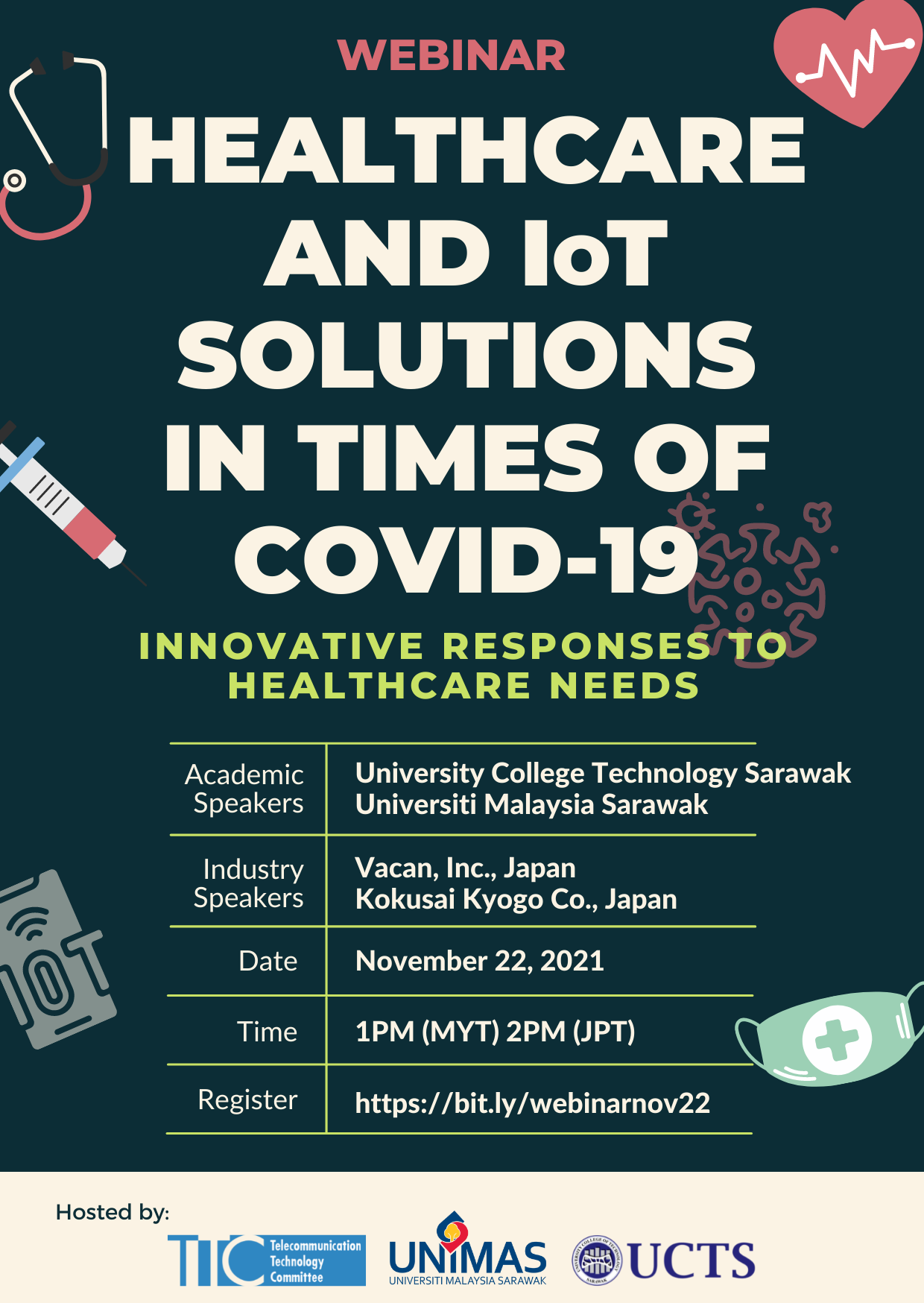 Assalamualaikum wbt and Salam Sejahtera
YBhg Tan Sri/Datuk/Dato'/Datu/Prof/Assoc Prof/Dr/Sir/Madam
We are proud to invite you to our first webinar, ''Healthcare and IoT Solutions in Times of Covid-19''. The details of the webinar are as follows:
Date: 22 November 2021 (Monday)
Time: 1 PM (MYT)
Platform: Zoom (link will be given to all registered participants)
Registration: https://bit.ly/webinarnov22
Website: https://share-asia.net/shareupdates.html
Note: Also refer to attached flyer.
The webinar's theme is Innovative Responses to Healthcare Needs, where we will deliberate on human tracking and human movement, which has become increasingly crucial ever since the pandemic. With the emergence of Covid-19, the usage of ICT-based applications for contact tracing, information dissemination, and data dissemination is gaining the attention of researchers and field experts. We believe that this is the right time to learn from these experts' experiences and knowledge and be informed of the latest trends and developments in IoT solutions.
The webinar will feature speakers from both Japan and Malaysia, both from the industry and academia. Participants can expect inspiring talks from experts on topics related to how ICT has been used in healthcare care, as a tool for interventions, solutions and a bridge between human needs and technological advancements, especially in the times of Covid-19. There will also be a panel session with speakers and other experts, and participants can expect to interact with our panelists to learn more about these areas of healthcare and IoT solutions.
Participants will also be introduced to an ongoing research project currently being undertaken by the organisers of this webinar, Universiti Malaysia Sarawak (UNIMAS) and University College of Technology Sarawak (UCTS), Malaysia, and The Telecommunication Technology (TTC), Japan, at a local hospital in Sarawak which focuses on understanding human flow at hospitals. The project is fully funded by Asia Pacific Telecommunity.
Do not miss out on this excellent opportunity to learn and share with some of the best! Registrations for the webinar are now open @ https://bit.ly/webinarnov22. Do share this invitation with your network of peers and colleagues.
We look forward to welcoming you to the webinar on 22 November 2021.
Attachment(s):