Monday 29 March 2021, 08:00am - 05:00pm

by
This email address is being protected from spambots. You need JavaScript enabled to view it.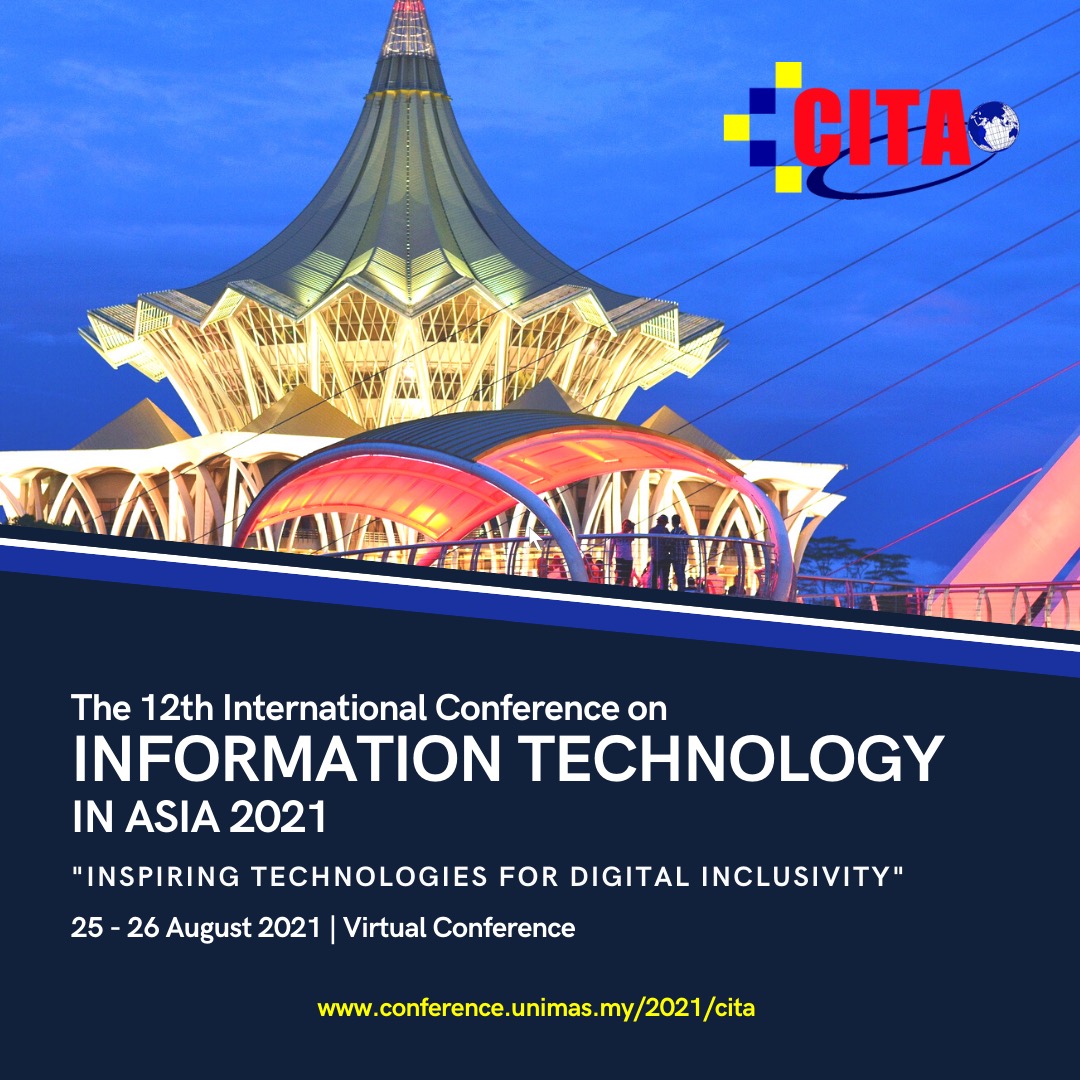 Call for Papers
The 12th International Conference on Information Technology in Asia (CITA 2021)
Virtual Conference| 25 - 26 August 2021
http://www.conference.unimas.my/2021/cita/
=============================================
Important Date:
01 April 2021 (Full paper submission deadline)
Publication:
All accepted papers will be considered for publication in one of the following journals:
International Journal of Systematic Innovation (Scopus Journal)
Acta Informatica Pragensia (Scopus Journal)
EDPACS (Scopus Journal)
International Journal of Business and Society (Scopus Journal)
Journal of Telecommunications and Information Technology (Scopus Journal)
Journal of IT in Asia
Fees:
Normal fee : MYR1300 | USD320
Early bird/Student: MYR800 | USD200
CITA 2021 is a regular series of biennial conference organised since 1999 by the Faculty of Computer Science and Information Technology, Universiti Malaysia Sarawak. For the first time, this conference will be conducted virtually. The theme for this year's conference is "Inspiring Technologies for Digital Inclusivity" and aims to feature presentations and discussions on the latest challenges, trends and research findings. This is an excellent transdisciplinary platform to learn, present and challenge inspiring ideas.
The areas of interest include but are not limited to the following:
Ubiquitous & Mobile Applications
Internet, & Web Applications
Cloud Computing
Internet of Things
TRIZ-based IT Development
Rural ICT
Database & Information Systems
Data Security/protection
Information Security
Artificial Intelligent
Computational Modelling and Simulation
Mathematical & Statistical Modelling
Social Value of ICT
Digitalisation of Government Services
Digital Education for Rural Community
Digital Commerce for Rural Economy
Human Machine Interface
Data Sciences
Machine Learning
Technology for Sustainable Development Goals (SDGs)
Attachment(s):