WEBINAR: Memakmurkan 'Society Driven Innovation' Perkongsian Kepelbagaian Pengalaman Projek Komuniti Berimpak Tinggi Oleh iCreaTe
Thursday 06 August 2020, 10:00am

by
This email address is being protected from spambots. You need JavaScript enabled to view it.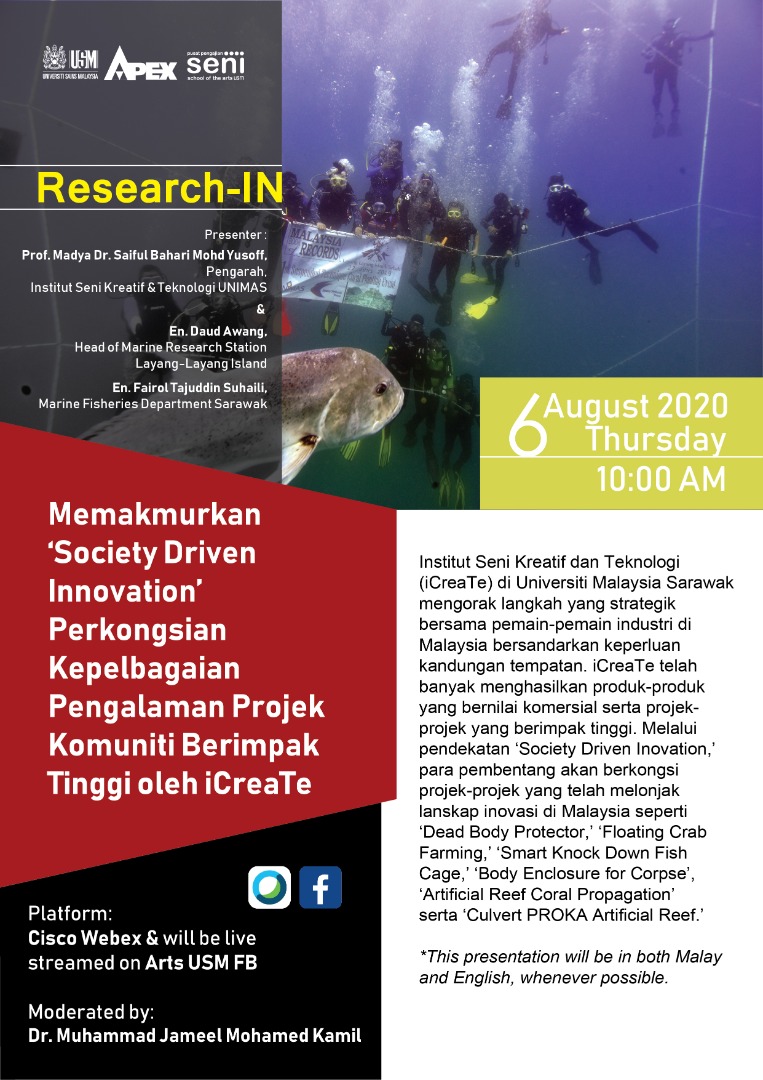 Research IN
Tajuk/Title: Memakmurkan 'Society Driven Innovation' Perkongsian Kepelbagaian Pengalaman Projek Komuniti Berimpak Tinggi Oleh iCreaTe
Tarikh/Masa : 6 Ogos 2020 (Khamis), 10am
Pembentang/Presenters:
Prof. Madya Dr Saiful Bahari Mohd Yusoff,
Pengarah, Institut Seni Kreatif dan Teknologi UNIMAS
dan
En. Daud Awang, Head of Marine Research Station Layang-Layang Island
En. Fairol Tajuddin Suhaili, Marine Fisheries Department Sarawak
Moderated by: Dr Muhammad Jameel Mohamed Kamil
Platform:
Cisco Webex and will be live streamed on Arts USM FB
Meeting number: 166 501 1673
Password: ResearchIN6Aug
Abstrak
Institut Seni Kreatif dan Teknologi (iCreaTe) di Universiti Malaysia Sarawak mengorak langkah yang strategik bersama pemain-pemain industri di Malaysia bersandarkan keperluan kandungan tempatan. iCreaTe telah banyak menghasilkan produk-produk yang bernilai komersial serta projek-projek yang berimpak tinggi. Melalui pendekatan 'Society Driven Inovation,' para pembentang akan berkongsi projek-projek yang telah melonjak lanskap inovasi di Malaysia seperti 'Dead Body Protector,' 'Floating Crab Farming,' 'Smart Knock Down Fish Cage,' 'Body Enclosure for Corpse', 'Artificial Reef Coral Propagation' serta 'Culvert PROKA Artificial Reef.'
*This presentation will be in both Malay and English, whenever possible.
Attachment(s):