Friday 21 January 2022
by
This email address is being protected from spambots. You need JavaScript enabled to view it.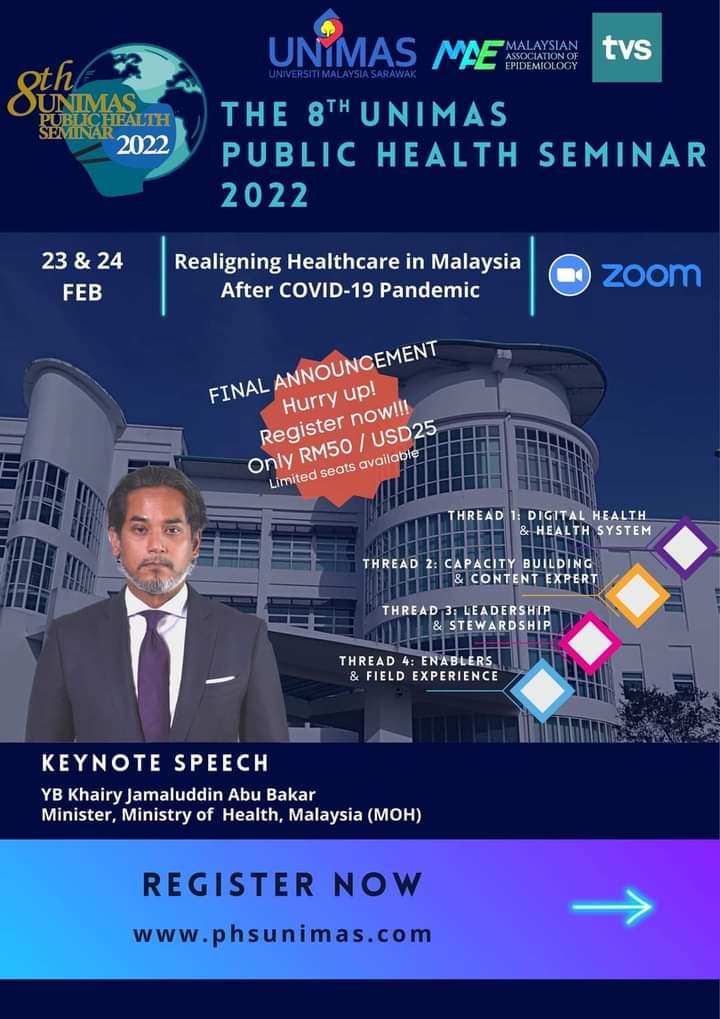 FINAL ANNOUNCEMENT…!
We are pleased to inform you that The Department of Community Medicine and Public Health (CMPH) will be holding its 8th UNIMAS Public Health Seminar 2022 from 23 & 24 February 2022
Visit us at www.phsunimas.com and register now! CPD will be awarded to all participants!!
Theme: Realigning Healthcare in Malaysia After COVID-19 Pandemic
Medium: Zoom (online seminar)
Throughout the webinar, e-poster will be available for viewing. The top 3 will be awarded great prizes! Those who are interested, kindly register at http://forms.gle/P8KiTL5b9RVRfyRd8 and submit your abstract to This email address is being protected from spambots. You need JavaScript enabled to view it. before 26 January 2022
Register now at www.phsunimas.com!!
Fees
Local participant: RM50.00
International Participant: USD25.00
E-Poster: free registration
We accept
bank-in transfer
UNIMAS EDU SDN. BHD.
MAYBANK Islamic Berhad
561239608898
LPO
eWallet (Sarawak pay & TNG)
Kindly attach payment at http://forms.gle/UW9JESg271zL2uLX8 and register at www.phsunimas.com to book your seat now!!
kindly visit our website and register at www.phsunimas.com or email us at This email address is being protected from spambots. You need JavaScript enabled to view it. or call us at 010-3822219 or WhatsApp us at 010-4430494 (Siddiq) / 017-9735769 (hafiz) if any queries.
Don't forget to register at www.phsunimas.com
Attachment(s):