#MyGirlsCan : Call for participation for Hour of Code in conjunction of International Girls in ICT Day
Wednesday 21 April 2021, 08:00am - 05:00pm

by
This email address is being protected from spambots. You need JavaScript enabled to view it.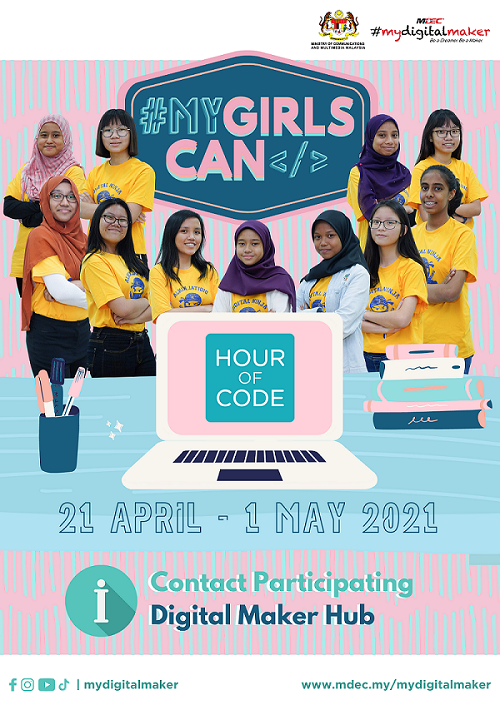 International Girls in ICT Day is an annual celebration and global campaign to empower and encourage girls and young women to take up studies and careers in ICTs. It is celebrated every fourth Thursday in April.

In conjunction of International Girls in ICT Day 2021, MDEC collaborates with Ministry of Communication and Multimedia (KKMM) to organize Hour of Code (HoC): #MYGirlsCan campaign.
In this edition, we would like to encourage FEMALE STUDENTS of age 7 –17 to participate in the campaign and stand a chance to win exciting prizes.
Campaign is taking place from April 21 to May 1, 2021
Participation is open for female students of age 7-17 (in primary and secondary school)
Campaign aims to attracts participation of students from public and private schools
Important: Participation is individual basis
What is Hour of Code?


Hour of Code (HoC) introduces coding and computer science to students through fun learning.
What do you need?
Internet connection
Web browser
Laptop, Personal Computer or Mobile device
How to participate?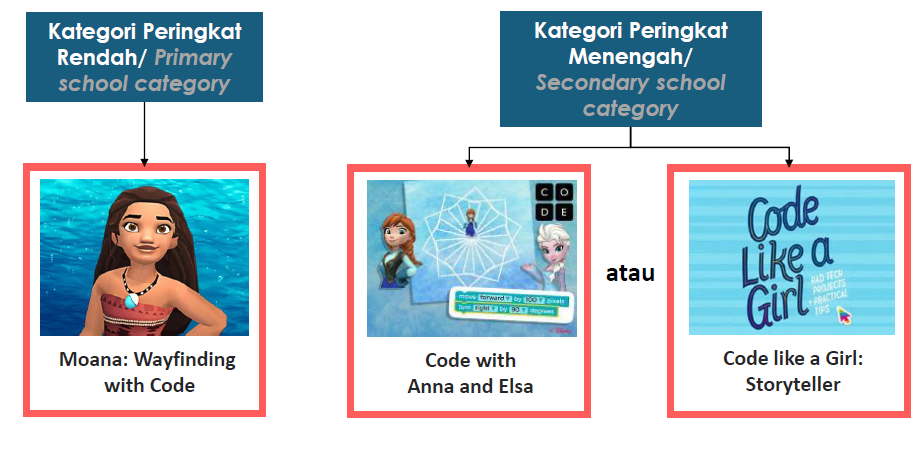 STEP 2
: Visit
https://hourofcode.com/my/en/learn
and choose to complete
ONE
of the above modules. Follow along all instruction on the screen to complete the module.
STEP 3: At the end of the module, students need to download a digital certificate of completion. Kindly ensure that name entered in the certificate is as MyKid/MyKad. Failure to do so will disqualify the entry.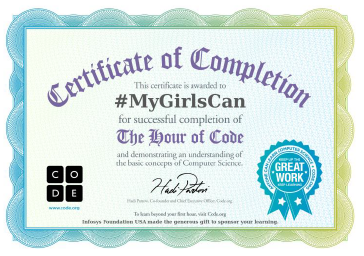 Sample of certificate
Note: If the certificate of completion is not downloaded or saved and the page was exited, student would have to re-do the module as the certificate will not be saved in the system
We are also looking for creative submission with the theme "Connecting Girls, Creating Brighter Future". Submit to
DMH@UNIMAS one (1) VIDEO with the following criteria:
Of 15 seconds maximum
With a minimum of one female student
With a creative slogan "Girls can code too because … " (translation to Malay, Chinese or Tamil language is acceptable)
STEP 4: Submission of video can be made through social media using all of the following hashtags:


#HOCxMYGirlsCan,
#mydigitalmaker
#dmhunimas
#fcsitunimas
and the link to the video should be sent together with the certificate. Kindly ensure that the social media account is set to public mode during the campaign period.
STEP 5
: Submit your digital certificate and link to your video to this link for your proof of participation:
http://bit.ly/HOCUnimas_sub


PRIZES
All participants will be receiving:
a. Pentaksiran Aktiviti Jasmani Sukan dan KoKurikulum (PAJSK) point at school level
b. Digital badge from #mydigitalmaker Hero initiative On top of that, lucky draw winners will stand a chance to win gifts worth RM200! Do not miss out on this!
Contact us for further information:
Mdm Nurul Zawiyah Mohamad
This email address is being protected from spambots. You need JavaScript enabled to view it.
Dr Sarah Flora Samson Juan
This email address is being protected from spambots. You need JavaScript enabled to view it.
Person in charge

DMH@UNIMAS
Attachment(s):