Thursday 16 February 2023
by
This email address is being protected from spambots. You need JavaScript enabled to view it.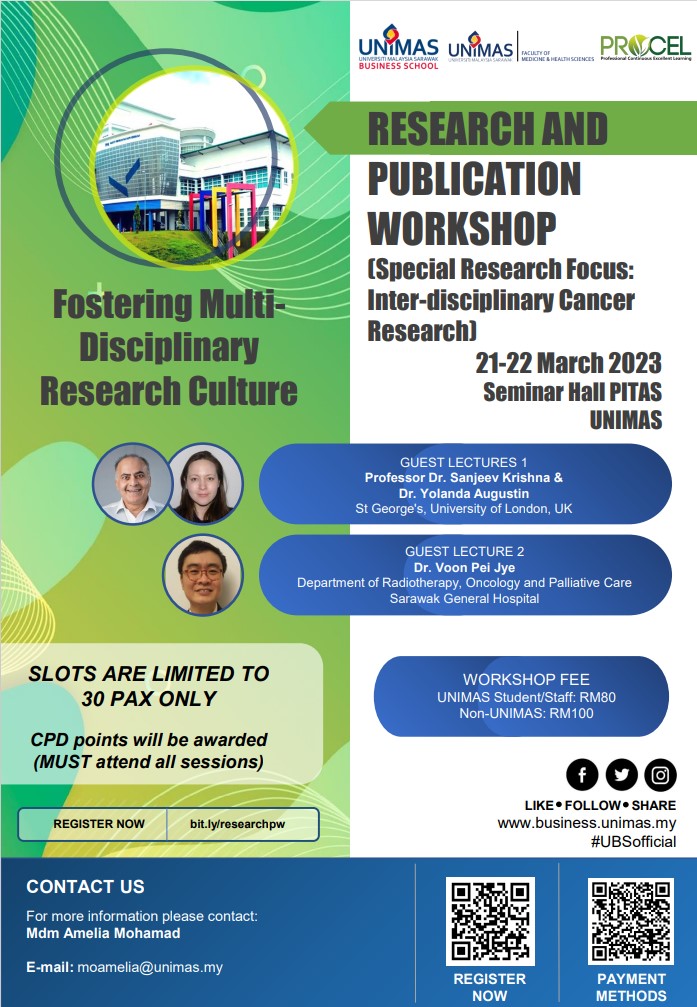 Good news! Interested participants can now join our upcoming workshop.
Would you like to learn the tips and tricks in writing research proposal and paper publication? Get into discussion on collaborative ideas on cancer research?
Then, this workshop is for you!
? Talks & brainstorming session with distinguished speakers including Professor Dr Sanjeev Krishna & Dr Yolanda Augustin from St George's University of London, United Kingdom and Dr Voon Pei Jye from Sarawak General Hospital.
? Date and Venue:
Date: 21st & 22nd March 2023
Time: 8.30AM - 4.30PM
Venue: Seminar Hall, Pusat Islam Tun Abang Salahuddin (PITAS), UNIMAS
??? Speakers:
1. Professor Dr Sanjeev Krishna, St George's University of London, UK
2. Dr Yolanda Augustin, St George's University of London, UK
3. Dr Voon Pei Jye, Department of Radiotherapy, Oncology and Palliative Care, SGH
4. Dr Chew Lee Ping, CRC, SGH
5. Professor Dr Md Mizanur, FMHS, UNIMAS
6. Professor Dr Samirah Abdullah, FMHS, UNIMAS
7. Associate Professor Dr Chai Chee Shee, FMHS, UNIMAS
8. Professor Tang Ing Ping, FMHS, UNIMAS
9. Professor Dr Zabidah Putit
10. Professor Dr Chew Keng Sheng
✍? Fees Info:
UNIMAS Staff/Postgraduate: RM80 per pax
Non-UNIMAS: RM100 per pax
(seats are limited to 30 pax)
UNIMAS Edu Sdn Bhd: 561239608898 (Maybank)
Or other payment methods- https://bit.ly/PaymentMethodsUBS
✍? Important links:
▪️ Registration link: bit.ly/researchpw
? Contact Person:
Mdm Amelia Mohamad
Email: This email address is being protected from spambots. You need JavaScript enabled to view it.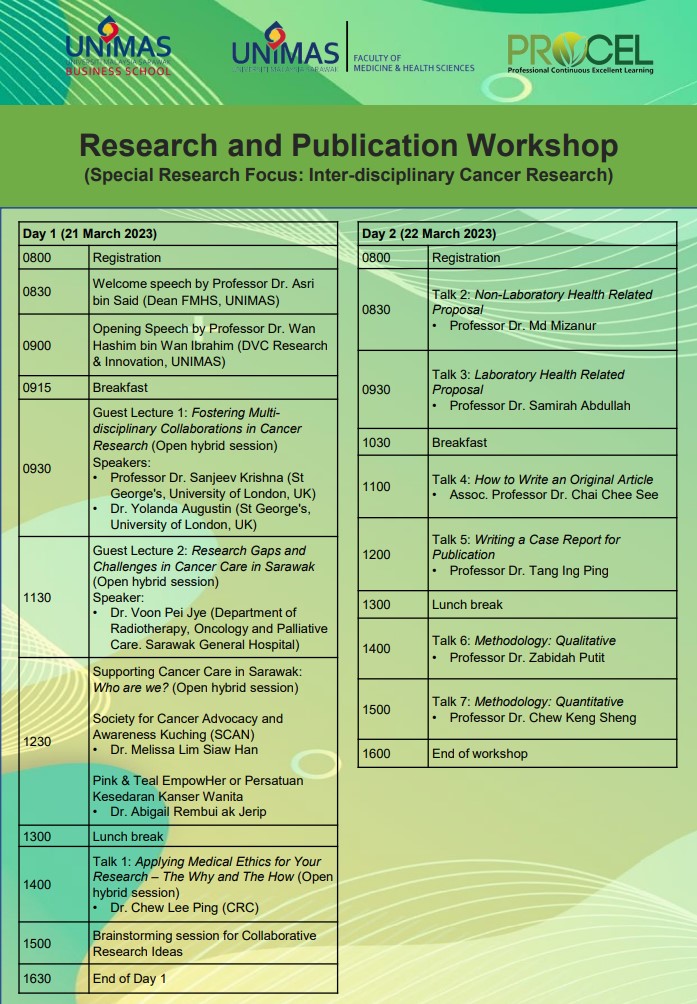 Attachment(s):