Friday 14 October 2022
by
This email address is being protected from spambots. You need JavaScript enabled to view it.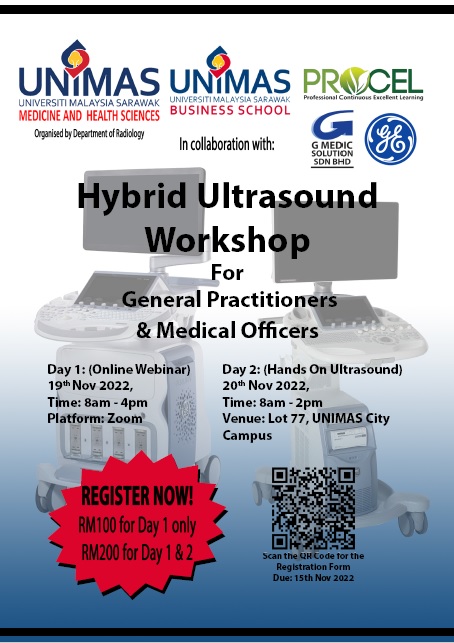 For General Practitioners & Medical Officers
Organised by:
Department of Radiology, Faculty of Medicine & Health Sciences, UNIMAS
in collaboration with GE Healthcare and G Medic Solution Sdn Bhd
? Date & Time
Day 1: 19th November 2022 (Saturday) 8.00 AM – 4.00 PM (Online Webinar via Zoom Platform)
Day 2: 20th November 2022 (Sunday) 8.00am - 2.00pm (Hands-on Ultrasound in UNIMAS City Campus, Lot 77, Section 22, KTLD, Jalan Tun Ahmad Zaidi Adruce, 93150 Kuching)
?‍? Speakers:
1. Dr Lui Tjun Hoe (Hospital Umum Sarawak)
2. Dr Teh Yong Sim (Pusat Jantung Sarawak)
3. Dr Wong Jia Huey (Institut Kanser Negara)
4. Dr Marhani Yati Marmono (Hospital Kuala Lumpur)
5. Dr Noorfizura Binti Ahmad (Hospital Umum Sarawak)
6. Dr Suhaila Binti Bohan (Hospital Tengku Ampuan Rahimah)
7. A/P Dr Nariman Singmamae (UNIMAS)
? What you will learn:
This workshop aims to provide primary healthcare providers with the basic principles and practical applications of ultrasound.
Registration Link:
https://forms.gle/Lu17S3DMJSBor3nb9
? Fees:
RM100 for Day 1 only (Online Webinar) - (No limit in the numbers of participants)
RM 200 for Day 1 (Online Webinar) AND Day 2 (Hands-on Ultrasound) - (Limited to 30 participants, first come first serve basis)
Fees payable to:
UNIMAS Edu Sdn. Bhd.
Maybank 561239608898
? For more info:
Please contact us at 0128860911 (Dr Yew), 0138259062 (Dr Koa), 0198790234 (Miss Haziqah)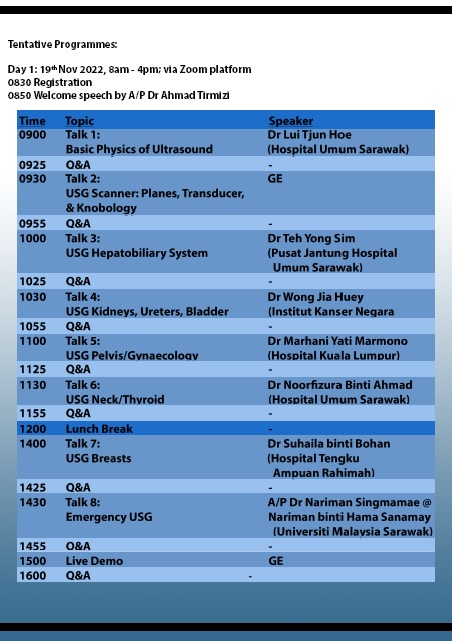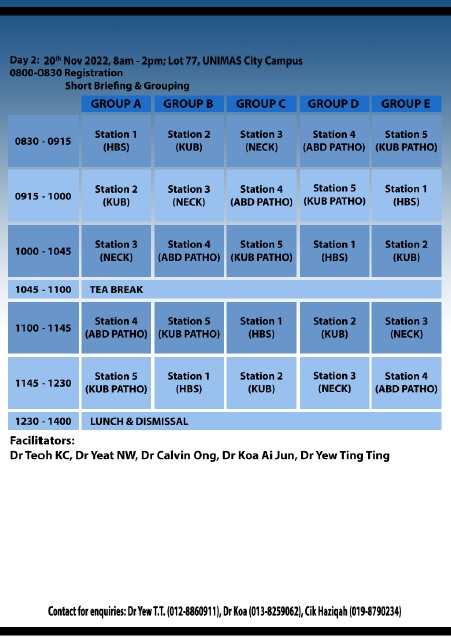 Attachment(s):