Friday 12 June 2020, 08:00am - 05:00pm

by
This email address is being protected from spambots. You need JavaScript enabled to view it.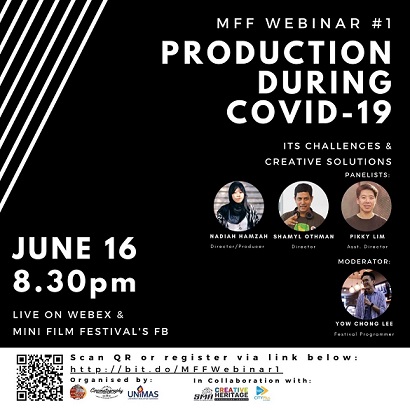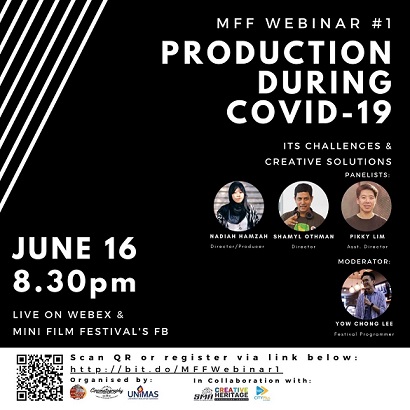 Kota Samarahan, Sarawak, 12th June 2020: Mini Film Festival (MFF) an annual event organised by the Faculty of Applied And Creative Arts, UNIMAS will be holding a webinar titled "Film Production During COVID-19: Its Challenges and Creative Solutions" will feature panellists comprise of filmmakers such as Nadiah Hamzah, Shamyl Othman and Pikky Lim on 16th June 2020 (Tuesday).
The three experienced filmmakers will be sharing their experience and involvement in either commercial or short film production creatively produced during the Movement Control Order (MCO). Despite many challenges encountered during the productions, the film and commercial they made had been positively received by Malaysian audiences.
In collaboration with Creative Heritage Innovation Centre, Sarawak Media Authority (CHIC, SMA) and CityPlus FM (Sarawak), this timely webinar will feature discussion on latest issues that are closely related to the film industry amidst the COVID-19 pandemic crisis.
The Corona virus has claimed more than 400,000 lives worldwide and has brought various impacts on our economy and human lifestyle. Likewise, the film industry is not an exception. For instance, approximately 170,000 film crews in the United States and England have reportedly lost their job. "This number is relatively small in comparison to the number of film crews in the Bollywood and China which were severely affected by the virus, and could potentially reaching more than a million people", said Yow, the festival programmer of the Mini Film Festival.
However, Malaysia and a number of countries have issued the Standard Operation Procedures (SOP) and guidelines for film industry to resume their production as early as 10th June 2020. "Practicing new norms in the film production will never appear as easy as they look on the surface. It eventually bring in additional costs to the production," Yow added, who is also the moderator of this webinar.
Along with the challenges, the panelists will discuss on the problems that they have and might be encountering. Then, they will also share some creative solutions for anyone who wishes to start production any time soon. Among the panels that would share their opinion is Miss Nadiah Hamzah who directed a TV commercial for a mobile phone company during the MCO. She is a well-known film director and producer, with her debut feature film 'Motif' released in 2019.
Meanwhile, Mr. Shamyl Othman is the director of some of these well-known films such as "Kami Histeria", "Rembat" and several other films that had been screened at international film festivals such as Singapore, Hanoi, Melbourne and Manchester. He had recently acted for a short film entitled "Geng Kelambu" which was shot during the CMCO. Meanwhile, with more than 10 years in film and TV production, Miss Pikky Lim has vast experience helming both creative and managing roles. She has also had the opportunity to work on various international projects such as "Crazy Rich Asians", "Marco Polo" and the latest Disney film, Mulan.
The webinar will be broadcasted through WebEx and Mini Film Festival's official Facebook page at 8.30 pm on 16th June (Tuesday). Audiences who wish to interact and ask questions to the panels could register through this link: http://bit.do/MFFWebinar1. Should there is any enquiries regarding this webinar, please contact Siti Noor Fatiehah at 013 - 4511 509.
Attachment(s):