From Thursday 16 July 2020 - 08:00am
To Friday 24 July 2020 - 05:00pm

by
This email address is being protected from spambots. You need JavaScript enabled to view it.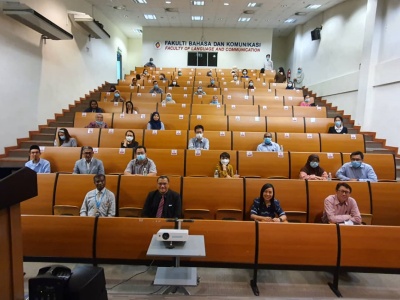 "Research & Innovation Roadshow 2020: From Lab to Market - The Path to Research Impact" by YBhg Prof Dr Wan Hashim bin Wan Ibrahim, Deputy Vice Chancellor (Research & Innovation).
We had our 5th and 6th sessions last Tuesday (14 July 2020) with Faculty of Economics and Business and Faculty of Language and Communication. It is good to witness a good turnout of close to 75% (FEB) and 98% (FLC) from members of the Faculties who attended the roadshows.
Sincere thanks to the Dean & Deputy Deans (FEB), Assoc Prof Dr Rossazana bt Ab Rahim, Assoc Prof Dr Dayang Affizzah binti Awang Marikan & Dr Jerome Kueh Swee Hui; Dean & Deputy Deans (FLC) Prof Dr Ambigapathy A/L Pandian and Pn Malia binti Taibi for your arrangement and support.
We look forward to upcoming stops at FAB, FSSK and FK. Thank you.
Attachment(s):