From Friday 23 March 2018 - 08:00am
To Thursday 08 August 2019 - 05:00pm

by
This email address is being protected from spambots. You need JavaScript enabled to view it.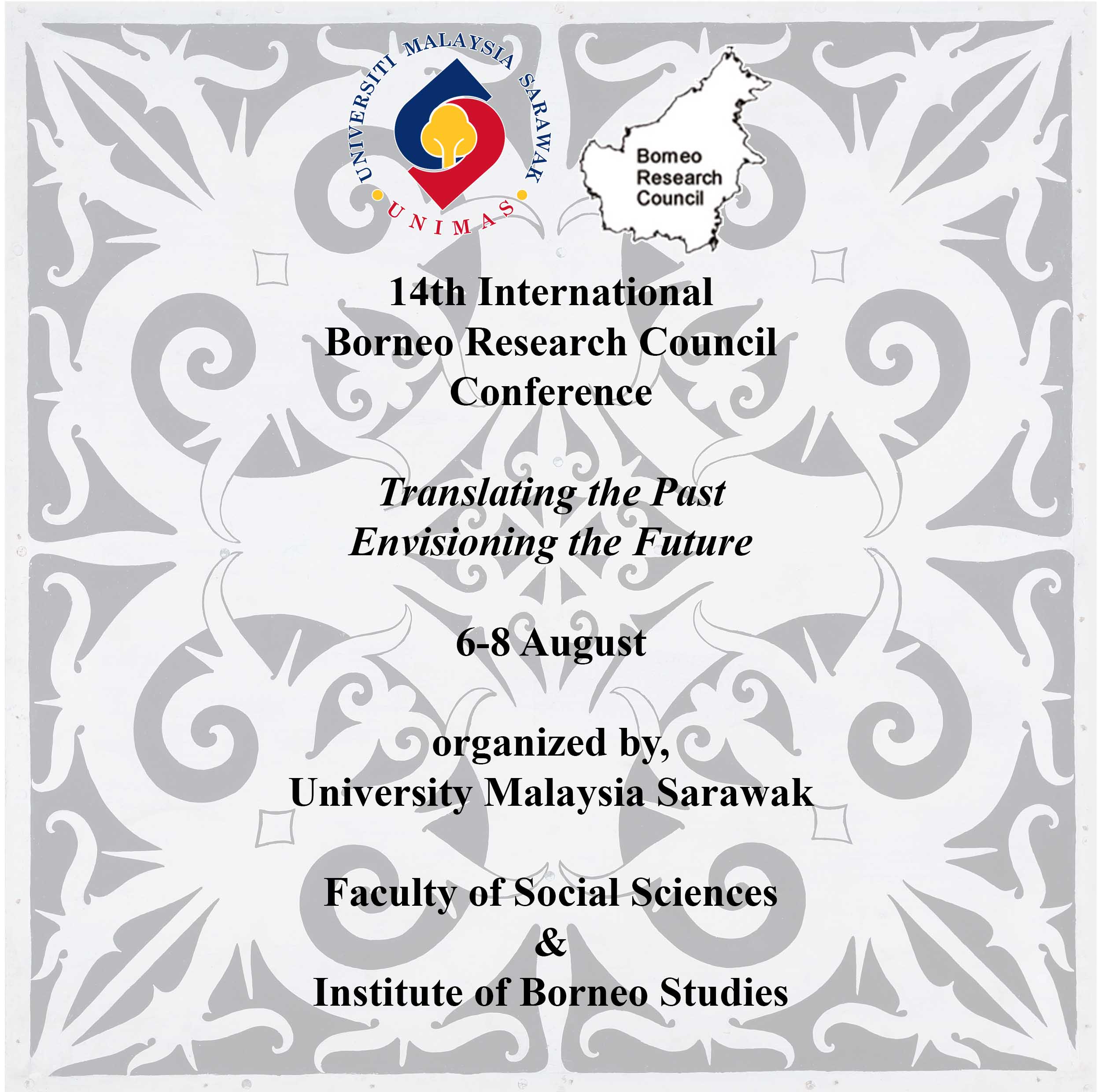 14th INTERNATIONAL BORNEO RESEARCH COUNCIL CONFERENCE (IBRCC14)
6 – 8 August 2018 Organized by
INSTITUTE OF BORNEO STUDIES,
FACULTY OF COGNITIVE SCIENCES AND HUMAN DEVELOPMENT
and
FACULTY OF SOCIAL SCIENCES UNIVERSITI MALAYSIA SARAWAK
Theme: Translating the Past/ Envisioning the Future
Objectives
The objectives of the conference are as follows:
1. To promote and disseminate scientific research in the social, biological and medical sciences in Borneo;
2. To enable the research community, public, interested Borneo government departments, and others to keep abreast of ongoing research and its results;
3. To serve as a vehicle for drawing attention to urgent research and its results;
4. To provide a forum for the flow of information on Borneo research arising from many diverse sources;
Venue
The Conference will be held on campus at Detar Putra, Universiti Malaysia Sarawak, Kota Samarahan, Sarawak, Malaysia.
Session Themes and Panels
This will be a multidisciplinary conference dealing specifically with Borneo, with plenary sessions and sessions devoted to special topics and panels including but not limited to the following fields:
Social transformation on the island of Borneo
Process of transformation

Social, economic and political impact studies and issues

Political institutions and leadership patterns

Community sustainability 

Population Studies

Identity and ethnicity

Gender relations and issues

Labour and employment conditions and issues

Community health and healthcare
 People and movement
Migration, diaspora, Borneo border and security issue

Borneo past, present, and future

Tourism
Technology and development
Digital economy

Digital technology

ICT Development 

ICT for Development

Media and communications

Indigenised Knowledge Development 

Indigenous Knowledge Management  
Biodiversity, conservation and the environment on the island of Borneo
Tourism industry and the environment

Heart of Borneo (HOB)

Ethnobotany
History, archaeology
Cultural Heritage 

Art management

Bornean languages

Community history

Indigenous customary law, rights and issues

Oral traditions
Other topics on Borneo
Education

Disability studies

Human settlement including architecture
Program Outcomes

By the end of this conference, participants will be able to:

Gain advance knowledge regarding transformation of care
Gain new experiences in quality care
Explore various possibilities to improve health care services
Network with each other
Program Details

The International Borneo Research Council Conference 2018 (BRC2018) with the theme "Translating the Past/ Envisioning the Future" will be conducted tentatively on 6

th

 to 8

th

 of August 2018 at DetaR Putra, UNIMAS. This conference aims to gather students and professionals, both locally and internationally to share their research findings, experiences, knowledge and even innovative projects that enhance the research and development at Borneo Island. It is a three-day program filled with various talks from invited speakers.
Languages of Presentation
The official languages of the Conference will be English, Bahasa Melayu and Bahasa Indonesia.
Abstracts
Intending paper presenters must submit abstracts of not more than 300 words, 1.5 spacing, font 12 Times New Roman.
Final date for submission of abstracts – 31 March 2018
Deadline for completed papers (for CD circulation during Conference) – 30 June 2018
Panels
Intended panel proposals must include suggested presenters with paper abstracts of not more than 300 words, 1.5 spacing, font 12 Times New Roman.
Registration
Early Bird Registration before 31 May 2018
- RM 500 for participants and presenters (international)
- RM 400 for participants and presenters (Malaysian)
- RM 200  for students
Registration after 31 May 2018
- RM 600 for participants and presenters (international)
- RM 500 for participants and presenters (Malaysian)
- RM 250 for students
Potential Publication
Borneo Research Bulletin

Journal of Borneo Kalimantan

Journal of Cognitive Sciences & Human Development

International  Journal of Business and Society

Sarawak Museum Journal 
Displays and Sale of Handicrafts and Books
Cultural associations, NGOs, booksellers and academicians are welcome to sell their handicrafts, books and products during the conference. The cost of renting a display table is RM 900 per day (availability is subject to space). Applicants will be accepted on a first-come first served basis. Those participating are responsible for managing their tables and sales.
Post-Conference Tours organized by Friends of Sarawak Museum
Three optional half-day post-Conference tours are being planned:
Tours of the Sarawak Museum's Urang Sarawak exhibit, Textile Museum, or the Brooke Gallery will be available

Archaeology site visit: Bongkisam at Santubong

Nature & history trek to Mount Matang Maha Mariamman Temple

Sarawak Cultural Village

Rafting expeditions
Costs and details will be posted soon.
Please visit the conference official website for more info;
http://www.conference.unimas.my/2018/brc2018/
To Register click-on "registration form"
Attachment(s):