Wednesday 17 February 2021
by
This email address is being protected from spambots. You need JavaScript enabled to view it.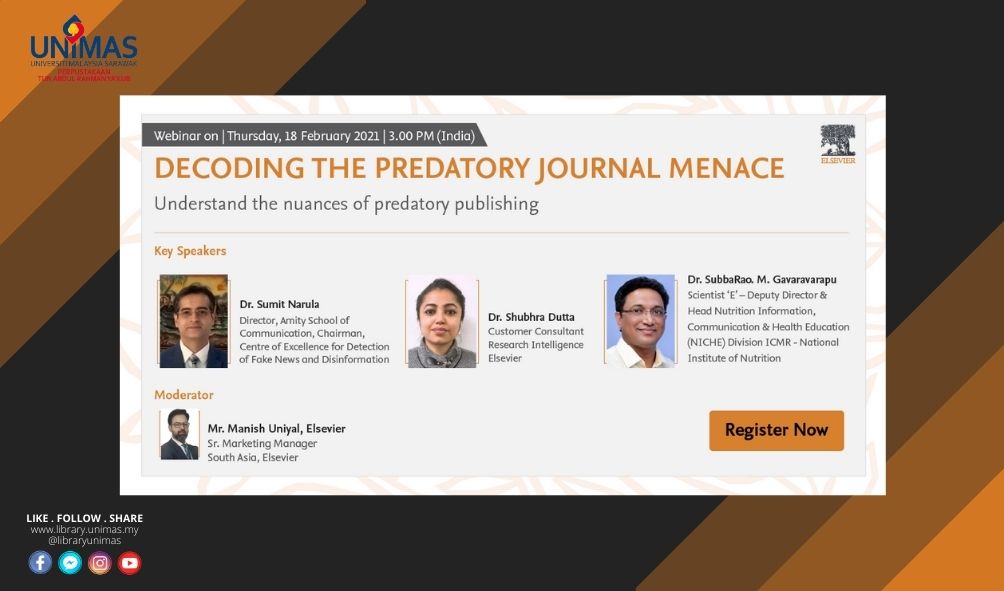 Good News!
Join the Elsevier webinar on February 18, to decode the predatory journal menace.
Title: DECODING THE PREDATORY JOURNAL MENACE
Date: 18th February 2021 (Thursday)
Time: 05.30pm MYT
In this webinar you can learn:-
1) What is predatory publishing?
2) How to detect cloned and fake Journals?
Listen to the experts to understand the nuances of predatory journal publishing and how to address the related challenges.
Agenda for the event:
Welcome note, Mr. Manish Uniyal Elsevier 03.00-03.05 PM
What is predatory publishing? How to detect cloned/fake journals? Dr. Sumit Narula - 03.05 PM - 04.00 PM
Expert curation and rigorous revaluation of Scopus, Dr. Shubhra Dutta (Elsevier) 04.00- 04.30 PM
Panel Discussion and Open forum Q&A (30min), Dr. Sumit Narula; Dr Subba Rao; Dr. Shubhra Dutta- 04.30 -04.55pm
Vote of thanks, Mr. Manish Uniyal Elsevier-04.55-05.00 PM
To register, click on the link below:
Attachment(s):